The United States reported 80,662 new COVID-19 cases on Wednesday, topping the previous record high of 79,303 cases on Oct. 23, according to NBC News.
Nearly every state in the U.S. is reporting increases in COVID-19 infections. Our region is no exception.
D.C. reported the highest seven-day average of cases (77) in more than four months on Thursday. On Tuesday, D.C. reported a hospitalization count not seen since late July.
Maryland's seven-day average of new daily infections is currently at 773 cases – that's 243 more cases than the beginning of October, and the highest number reported since mid-August.
As the pandemic takes a turn for the worse, parents in Prince George's County are concerned about allowing their children to return to in-person learning in spring, a recent poll found.
The poll, conducted by Prince George's County Public Schools (PGCPS) found that 68% of parents report "feeling uncomfortable with in-person instruction."
PGCPS is expected to make an announcement Thursday regarding when children can expect to return to the classroom.
Stay informed about local news and weather in the D.C. area. Get the NBC4 Washington app for iOS or Android and pick your alerts.
Gov. Ralph Northam addressed rising coronavirus cases in Virginia at a press conference Wednesday.
Cases in Southwest Virginia in particular have increased over the past two weeks, Virginia data shows. The percent positivity in the Southwest region is now just under 8%, over twice the level in other regions, Northam said.
Number of Cases by Date of Symptom Onset in Southwest Virginia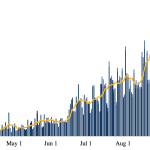 Virginia's seven-day average on the first of this month was 649 cases. Today, an average of 903 daily cases are being reported.
Cases in Northern Virginia have been trending upward since the beginning of October, but at a lower rate than the Southwest region.
Northam also announced that Virginia will allocate an additional $30 million in Coronavirus Aid, Relief, and Economic Security (CARES) Act funding to support small businesses.
Each business will now be eligible for up to $100,000, up from a previous limit of $10,000.
---
European countries face rising cases, too.
French President Emmanuel Macron announced a nationwide lockdown starting Friday, German Chancellor Angela Merkel imposed a four-week shutdown of bars, restaurants and theaters and many other European countries have also followed suit.
Here's where we stand as the coronavirus continues to change our lives in D.C., Maryland and Virginia.
---
What the Data Shows
D.C. reported one death and another 101 cases of COVID-19 Thursday – the highest count in three weeks.
In Maryland, another 962 cases of the virus and 11 more deaths were announced. The rolling seven-day average of cases was 773, indicating the acceleration of new infections in the state.
Virginia reported 1,076 cases and 20 additional deaths Thursday. The rolling seven-day average of cases was 903.
Positivity rates across the region are a bit higher than usual, indicating more people being tested for COVID-19 are coming back with a confirmed diagnosis. D.C. reported a positivity rate of 2.6%, Maryland reported 3.52% and Virginia reported 5.3%.
The map below shows the number of coronavirus cases diagnosed per 100,000 residents.
Coronavirus Cases in DC, Maryland and Virginia
COVID-19 cases by population in D.C. and by county in Maryland and Virginia
Source: DC, MD and VA Health Departments
Credit: Anisa Holmes / NBC Washington
---
Local Coronavirus Headlines
A man who refused to wear a face mask at an early voting site in Maryland was arrested Tuesday and faces misdemeanor charges, officials say.
Maryland and Virginia released plans on Oct. 20 for distributing a COVID-19 vaccine, but D.C. is staying mum for now.
Mayor Muriel Bowser is urging D.C. residents who use iPhone or Android smartphones to opt-in to a new COVID-19 contact-tracing app.
Most new COVID-19 cases in D.C. come from social events, according to data presented by the District's health department.
Montgomery County could roll back reopening after seeing an increase in infections.
Five employees of the Maryland Motor Vehicle Administration tested positive for COVID-19 and one of them has died, officials say.
The Fauquier County School Board expects 71% of its students back in classrooms as part of a hybrid learning plan starting Nov. 9.
Child care capacity is expanding in Maryland under phase three, although Montgomery and Prince George's counties opted to remain at current operating levels.
D.C. plans to have high school sports return in January.
---
Reopening Tracker
---
How to Stay Safe
There are ways to lower your risk of catching coronavirus. Here are guidelines from the CDC:
Wear a snug-fitting mask that covers your nose and mouth.
Avoid being indoors with people who are not members of your household. The more people you are in contact with, the more likely you are to be exposed to COVID-19. If you are indoors with people you don't live with, stay at least six feet apart and keep your mask on.
Wash your hands often, especially after you have been in a public place.