The race against the coronavirus has taken a new turn. As more mutations continue popping up, and as the pace of vaccinations slow due to low supply, the more likely it is that a variant that can elude current tests could emerge.
"We need to do everything we can now ... to get transmission as low as we possibly can," said Harvard University's Dr. Michael Mina. "The best way to prevent mutant strains from emerging is to slow transmission."
---
All COVID-19 vaccination appointments in Prince George's County are booked until Feb. 9, County Executive Angela Alsobrooks announced at a press conference Tuesday morning.
The county will now require preregistration to ensure that Prince George's residents are getting vaccinated, Alsobrooks said.
Maryland moved into Phase 1B of vaccinations on Monday.
Marylanders age 75 and older, all residents at long-term care facilities, and teachers and education staff are all eligible to receive vaccinations.
---
Virginia is also reporting shortages of COVID-19 vaccination doses. Several jurisdictions have stopped taking appointments for shots.
Arlington County Board Chair Matt de Ferranti announced Monday that the county's ability to inoculate those eligible to receive the COVID-19 vaccine is also limited only by the availability of supply.
"Today Arlington will be inoculating 900 Arlington County teachers, after inoculating 900 on Saturday," de Ferranti said. "We have the capacity to do at least 2,000 doses per day or 14,000 per week, and we can do more if we were assured a greater supply."
On Monday, Fairfax County school staff began receiving vaccinations at the Inova Fairfax Hospital. This week, Inova reported it only received half of the vaccine allocation it requested.
"We've got capacity," says Melanie Massiah-White, Inova's chief pharmacy officer. "If we had additional vaccine I would welcome all of Northern Virginia here to vaccinate them."
---
D.C. has closed COVID-19 testing at all fire houses as well as Judiciary Square until after Inauguration Day. All test sites will be closed on Inauguration Day.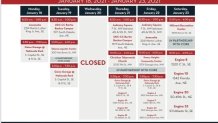 ---
Nearly 1,500 new COVID-19 vaccination appointments opened up to D.C. residents 65 or older on Monday at 9 a.m., the District's health department announced. The appointments were also available to any D.C. health care worker.
Eligible residents can go here to try to set up an appointment: coronavirus.dc.gov/vaccinatedc.
---
---
Vaccination Portals by County
As vaccinations in our region ramp up, here's a look at local portals residents can use to sign up for vaccination appointments or sign up to receive alerts.
To get a better idea of when you'll be eligible to receive a vaccine, use our tool below.
A new study has found that as COVID-19 vaccines roll out, they are disproportionately reaching white populations before Black and other minority communities.
---
What the Data Shows
Seven-day averages have fallen for a week straight in Maryland and for four consecutive days in D.C. In Virginia, the seven-day average fell after Monday's record high.
The seven-day averages in D.C., Maryland and Virginia, are currently at 262, 2,548 and 4,279, respectively.
D.C. reported 226 new cases and four additional deaths Tuesday. Maryland reported 1,972 new cases and 53 additional lives lost. Virginia had 3,427 new cases and 42 deaths.
Hospitalizations rose slightly to 2,823 in Virginia and 1,875 in Maryland. In D.C. 273 patients are currently hospitalized with COVID-19.
More than 586,000 people in the D.C. region have received their first dose of COVID-19 vaccine. Nearly 70,000 people have been vaccinated with both doses.
Local Coronavirus Headlines
---
Reopening Tracker
---
How to Stay Safe
Anyone can get COVID-19. Here are three simple ways the CDC says you can lower your risk:
Wear a snug-fitting mask that covers your nose and mouth.
Avoid being indoors with people who are not members of your household. The more people you are in contact with, the more likely you are to be exposed to COVID-19. If you are indoors with people you don't live with, stay at least six feet apart and keep your mask on.
Wash your hands often, especially after you have been in a public place.