Scott MacFarlane, News4 I-Team Reporter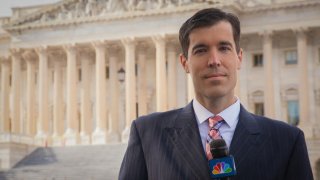 Scott MacFarlane is an investigative reporter with the News4 I-Team. His work has led to the creation of five state laws, triggered federal prosecutions, and has been referenced in more than a dozen formal congressional hearings and floor speeches.
Scott has interviewed U.S. presidents, dozens of U.S. senators, governors and a Supreme Court justice, and he's questioned press secretaries in the White House press briefing room.
MacFarlane is the recipient of several awards for his work on behalf of children's safety. He won the Anna Quindlen Award for Excellence in Journalism from the Child Welfare League of America in 2018. His series of investigations on public school security has yielded several honors from the Associated Press and a series of Emmy and Edward R. Murrow awards.
His reporting on thoroughbred horse racing deaths in West Virginia triggered a series of new safety state regulations for the sport and earned an award from the Humane Society of the U.S. His series of investigations on the U.S. State Department was honored in 2020 by the National Press Club. And Scott's investigations of the U.S. Department of Veterans Affairs inspired a congressional review by the U.S. House Oversight Committee, which played and cited his news reports in a June 2019 hearing.
MacFarlane also fills in as a Washington-based correspondent for NBC NewsChannel, the network's affiliate news service, and as a fill-in host on SIRIUS/XM's POTUS channel.
MacFarlane joined NBC after almost a decade of work as a Capitol Hill reporter for the Cox Media Group. He began his career as a reporter for CBS TV affiliates in Detroit, Cleveland, Grand Rapids and Syracuse.
MacFarlane also once served as a congressional staffer in the U.S. House of Representatives.
MacFarlane is a summa cum laude graduate of Syracuse University.
MacFarlane has also produced documentaries on the history of two New York radio stations, WJPZ-FM and WAER-FM. He belongs to the WJPZ and WAER radio Halls of Fame. He previously served on the Board of Advisors of Syracuse University's Newhouse School of Public Communications.