Editor's Note: The woman was taken into police custody after 36+ hours. Get updates here.
Police are in a tense standoff on Richmond Highway (Route 1) in the Hybla Valley area with an armed woman in an incident that may be connected to the case of two missing Maryland women.
For the safety of the public, part of Richmond Highway – the major artery through the area – has been shut down since late Tuesday morning. All lanes of Richmond Highway are blocked between Lockheed Boulevard and Boswell Avenue. Alternate routes include Telegraph Road and Fort Hunt Road.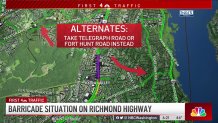 We're making it easier for you to find stories that matter with our new newsletter — The 4Front. Sign up here and get news that is important for you to your inbox.
The closure is affecting traffic Wednesday, and Fairfax County police advised commuters to avoid the area.
Authorities said they were asked by another law enforcement agency to perform a welfare check in an area just up the street at about 11 a.m. Tuesday. They said they were checking for a missing person in potential danger.
Outside a Quality Inn Motel, they encountered a distraught woman.
Northern Virginia
Northern Virginia news, events and updates
"When we responded there, there was a woman who said she had been abducted, and the suspect vehicle had just fled. So we began searching the area, and that's when one of our officers found the vehicle, and it led to a pursuit and ended here," Lt. James Curry said. "She did display a firearm to the officers during that first traffic stop, and that's led to the response that you see here."
A crisis team made up of a mental health clinician and a police negotiator have been trying to communicate with the woman, who is in a black SUV.
A negotiator approached the SUV under the cover of an officer with a rifle but soon backed away, saying the woman was not communicating with them.
A man who said he is the woman's uncle told Northern Virginia Bureau Reporter Drew Wilder police asked the family to record audio messages for the woman.
"The negotiator at this point is attempting to make this person as comfortable as possible," said John Villanueva, an adjunct lecturer in George Mason University's criminology department.
He said the messages from the family is a de-escalation tactic.
"They want to pull them back from the edge and humanize the situation," he said. "Look, there are people that love you, alright. There are people that you love. This need not turn fatal."
Sirens continued to blare and police were using a megaphone to communicate on Wednesday morning, telling the woman to get out of the car. The woman has shown a gun multiple times.
Earlier, an officer was heard saying, "Put your hands up. You are under arrest."
Onlookers told News4 they saw police bring the woman meals.
Police said they can't release many details because they're trying to get the woman safely out of the vehicle. Authorities also said they would be there as long as it takes to resolve the situation safely.
Earlier Tuesday, 25-year-old Lauren Kingsbury was found safe in Fairfax County after she'd been missing since Friday. The woman's uncle told News4 she did have a connection to Kingsbury, and police confirmed the investigation started with a missing woman report out of Maryland.
"This started as an investigation, a welfare check for a woman who was reported missing out of Maryland," Curry said. "It was that point in time when we were approached by a second woman who stated that she was abducted. During that, we were directed to a car that was possibly involved, and it led to where we are today."