Angry protesters took over the streets of downtown D.C., again Sunday night, with some setting fires, looting, and vandalizing buildings and cars as unrest cropped up elsewhere in Northwest D.C.
Sixty-one U.S. Park Police officers and seven D.C. police officers were hurt in the clashes, officials said in updates Monday.
Three Park Police officers were hospitalized, a representative said. One was hit in the head with a brick, one was hit in the groin with a brick and a third was thrown from his horse. The officer who was hit in the groin required surgery, sources said.
Fires were set at the historic church across from the White House, at at least three CVS stores and in other commercial buildings in downtown D.C. Incensed agitators broke windows and looted stores in D.C.'s upscale Georgetown shopping district and attacked a man there.
The unrest was reported as far away as Tenleytown and Friendship Heights, where a Target store and the Mazza Gallerie shopping area were hit.
D.C. Mayor Muriel Bowser admonished protesters who participated in destruction and violence after surveying the damage in different neighborhoods.
"We recognize that people are frustrated and mad, but tearing up our beautiful city is not the way to bring attention to what is a righteous cause," she told "TODAY."
Hoping to stop looting, burning and vandalizing and citing concerns about coronavirus spreading through protests, Bowser ordered a curfew from 11 p.m. Sunday to 6 a.m. Monday and deployed the National Guard. In a rare move, US Marshals and DEA agents were activated to assist police. But turmoil continued after the curfew went into effect.
The streets cleared out overnight and by 5 a.m. a cleanup effort was underway in the city. Some debris was cleared but evidence of the unrest was still visible.
Lafayette Square, where peaceful protesters and demonstrators more antagonistic to police had gathered throughout the weekend, remained closed Monday morning to keep any demonstrators far from the White House. Litter and trash were strewn around and a statue had been spray painted.
Police dressed in tactical gear including helmets and shields on Sunday night collided with protesters, set off flash bangs and deployed tear gas in the park.
Local
Washington, D.C., Maryland and Virginia local news, events and information
Virginia Del. Ibraheem Samirah, who represents parts of Loudoun and Fairfax counties, said he was hit with tear gas.
"My constituents, along with countless others across the country, were exercising their right to protest yesterday. The cops didn't care," he wrote on Twitter. "They instigated riots by firing into our peaceful crowd & charging towards us for no reason."
Photos: Protests, Unrest in DC Following George Floyd's Death
Video from News4 crews shows numerous fires near the White House, including a small building set on fire at Lafayette Square and one outside a historic church.
A fire found in the basement of the historic St. John's Episcopal Church across from the White House was extinguished, fire officials said. The yellow and white church is known as the "Church of Presidents" and has been standing in the city since the early 1800s. Presidents George W. Bush, Barack Obama and Donald Trump have all attended services there.
The protective glass over a stained-glass window was broken, church leaders said. The stained glass was not damaged. Graffiti stained the exterior.
Church leaders said they were able to secure some valuable items and voiced support for peaceful protesters.
"Our community and our country are in anguish and unrest. And yet, we can see that thousands of people are lifting their voices and organizations are engaging in peaceful, meaningful action to ensure the life of George Floyd and countless others are not lost in vain," a letter to worshippers read.
The church shared a prayer asking "that barriers which divide us may crumble, suspicions disappear, and hatreds cease," from "The Book of Common Prayer."
The World War II Memorial and Lincoln Memorial were among National Mall sites that were vandalized with phrases "Do black vets counts?" and "y'all not tired yet?" written in black spray paint.
The National Park Service called for the sites to be treated as a space for non-violent demonstrations.
Sunday night's chaos went beyond the area around the White House and downtown D.C.
A boarded-up window at the Apple Store in Georgetown was no match for those who wanted to carry out destruction. The wood was pulled down, the window was smashed and the store was ransacked overnight. A Club Monaco clothing store and a glass store also took damage in the upscale shopping district.
A Wawa store across the street from the Apple Store and several other retailers nearby were spared from damage. Several people were arrested in Georgetown.
News4's Mark Segraves reports people were looting and a group attacked a man in the middle of Wisconsin Avenue in Georgetown.
Flash bangs crackled in the air and police deployed what appeared to be tear gas multiple times in their attempts to get the crowds to leave.
At one point, protesters crowded around a fire someone set, cheering and chanting.
Tenleytown and Northwest D.C. became another site of unrest, as a Target store on Wisconsin Avenue was looted. About four arrests were made.
Target and CVS have closed some stores across the country after being damaged in multiple cities.
Fires were set overnight at multiple CVS stores, including those at Florida Avenue and 7th Street NW, Georgia and New Hampshire avenues NW and M and 20th streets. They were brought under control by D.C. firefighters.
Smoke was pouring out of a window and became so thick inside one store that it blocked the view inside, video posted by D.C. Fire shows.
A fire was set in the lobby of the AFL-CIO building, which houses the country's largest federation of unions, at 16th and I streets NW and put out by firefighters.
Minutes before, they surrounded Lafayette Square demanding more action following the Minneapolis killing of George Floyd. Police deployed tear gas and it appeared that fireworks went off, causing protesters to scatter.
Earlier in the day, some yelled "Don't shoot!" as they crossed a barrier into Lafayette Square. Officers clad with shields and helmets quickly stepped up to them, forming a line and forcing the protesters back to the other side of the barrier.
News4's Shomari Stone was giving a live report when another tense moment broke out. Video shows protesters pushing some of the officers' shields in an effort to get over the barrier again. They screamed as officers appear to pick up at least two protesters up and push them back across the barrier. An officer then deployed pepper spray to force demonstrators away from the gate.
Warning: The video below has some graphic language.
At about 7:40 p.m., demonstrators had marched from near the White House to H Street NW and stood in the street as police held their line. Stone reported officers deployed several apparent flash bangs as protesters scuffled with police.
Officer Derek Chauvin, 44, was charged with third-degree murder and second-degree manslaughter in Floyd's death. Demonstrators who marched from Howard University to the White House Sunday afternoon say they want the three other officers involved in Floyd's arrest to be arrested and charged. All four officers were fired.
Many protesters remained peaceful even as others began to clash with police.
Thousands of protesters yelled "Hey hey, ho ho, Donald Trump has got to go," "black lives matter" and "no justice, no peace."
Officers from the Park Police and U.S. Secret Service were keeping them far back from the heavily fortified Executive Mansion.
The White House was unusually quiet for a Sunday as staffers were encouraged to keep away from the complex. "Due to ongoing demonstrations, please avoid coming to the White House Complex today if it all possible," an email alert to staffers stated.
Large protests began in D.C. on Friday, as they erupted in cities across the country. Protesters chanted, some clashed with officers and one woman climbed over a barrier outside the White House. Six people were arrested and multiple Secret Service officers were hurt.
Demonstrations on Saturday were peaceful for hours and then "a small number of people grew violent," the police chief said.
Protesters threw objects at local and federal officers, and vandalized and looted businesses. Demonstrators set fire to scaffolding near The Hay-Adams hotel, sparking a dramatic blaze that D.C. firefighters were able to put out quickly. They also started fires in dumpsters and trashcans, spray painted police cars and shattered storefronts. 
Seventeen people were arrested and 11 D.C. police officers were hurt. Police identified several people who were arrested. All officers' injuries were considered non-life-threatening. One officer was in surgery after he was hit with a brick, injuring his leg.
Bowser initially said she wouldn't implement a curfew like other cities including Richmond, Virginia.
"We know that the people who were disruptive last night were not likely curfew-followers," she said.
But the mayor reversed course and at about 8 p.m. an alert went out to residents across the city warning them to get inside by 11 p.m. Credentialed media and health care workers were exempt from the order.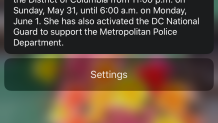 "I recognize and empathize with the outrage that people feel following the murder of George Floyd in Minnesota last week," a copy of the order posted on Twitter said.
People were allowed out for essential purposes as defined in other orders. That appears to refer to the stay-at-home order, which allowed residents to go out for food, to walk a dog, exercise and other essential activities. Otherwise, the city barred anyone from traveling by any mode of transportation in all areas of the District.
Anyone who violated the order could have been charged a $300 fine or sentenced to 10 days in jail.
Bowser announced another curfew will go into effect at 7 p.m. Monday.
While some protesters stayed near the White House during the three days of demonstrations, others marched through the streets. The mood was angry and several speakers implored marchers to remain peaceful.
The march paused between the Washington Monument and the National Museum of African American History and Culture. Demonstrators sat down in the street for a moment of silence lasting for the eight minutes or more that the Minneapolis police officer knelt on Floyd's neck.
NBCWashington/AP