Forceful winds gusting beyond 60 mph walloped the D.C. area Friday, knocking down dozens of trees and causing thousands to lose power.
A strong line of rain showers moving through Friday evening increased the strength of the winds. Severe thunderstorm warnings were issued to warn people about the dangerous conditions.
"This really is a dangerous situation," said Storm Team4 Chief Meteorologist Doug Kammerer, who advised people to stay home.
The strong winds caused power outages across our area that continued into Saturday morning amid blustery conditions and cold wind chills. The breeze is set to calm during Saturday and highs will approach 70 degrees.
Dominion Energy reported around 6,800 customers are without power around 8 a.m., including 2,800 in Fairfax County and 2,400 in Loudoun County.
Fewer than 500 outages were reported in Arlington and Alexandria.
Pepco has fewer than 500 outages in D.C., Montgomery and Prince George's Counties.
Potomac Edison reported more than 300 outages in Frederick County, Maryland.
A high wind warning and wind advisory expired for D.C.; parts of Montgomery and Prince George's counties in Maryland and parts of Arlington, Fairfax and Loudoun counties plus Alexandria, Fairfax and Falls Church in Virginia. Go here to see all severe weather alerts.
During the high winds, the National Weather Service advised people to stay away from windows.
On Garfield Avenue in upper Northwest Washington, a large tree branch snapped, falling onto an SUV. No one was inside at the time.
In Potomac, crews are investigating whether the wind knocked power lines onto a house, starting a fire that caused $100,000 in damage.
In the 1200 block of Walter Street in Southeast D.C., a large tree branch fell on a home. No injuries were reported. In Arlington, Virginia, a tree crushed a car on 36th Street.
Also in Arlington, a large tree fell on North Glebe Road, blocking part of the northbound lanes. Part of the tree also fell on the Buckingham Apartments, damaging them. No injuries were reported.
In Bethesda, Maryland, trees fell on houses in the 7300 block of Pyle Road, the 5100 block of Wissoming Road and the 5600 block of Newington Road.
In Northwest D.C., trees fell on houses in 3900 block of McKinley Street and the 3700 block of Brandywine Street.
On Golden Ash Way in Gaithersburg, Maryland, wind tore off an aluminum roof. No one was injured.
D.C. Fire and EMS was called to a building collapse in the 700 block of Malcolm X Avenue SE where a home under renovation collapsed toward the street. No one was found injured or trapped when a K9 searched the debris.
Fairfax Fire and Rescue said they were dispatched to 210 calls for help between 4 p.m. and 8 p.m., including dozens of downed trees, several small brush fires caused by arcing power lines. Ten homes were damaged by downed trees across the county. No injuries were reported.
A bulldozer was used to clear a downed tree from Kirby Road near Loch Rave Drive in McLean, Virginia.
Several trees fell in the D.C. area before noon, including one on the Capital Beltway that appeared to damage multiple cars.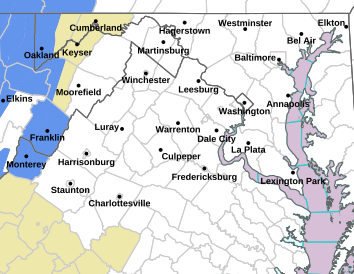 A wind advisory was issued for Charles, Saint Mary's and Calvert counties in Maryland and Fauquier, Rappahannock, Stafford, Culpeper and Prince William counties plus Fredericksburg, Manassas and Manassas Park in Virginia. It has expired.
"Damaging winds will blow down trees and power lines. Widespread power outages are expected," the NWS said.
Here are safety tips for high winds:
Secure lawn furniture, trash cans and outside toys ASAP.
Keep your devices at full charge in case of a power outage.
Use battery-powered flashlights, not candles, if lights go out.
Stay aware in case of falling branches or flying objects.
Drivers, slow down. Pedestrians, keep extra distance from the road.
Never approach a downed power line and avoid touching anything in contact with one. Call the authorities.
D.C. closed COVID-19 testing at the Fort Stanton Recreation Center due to the forecasted winds and canceled test kit pickup for TestYourselfDC.
As of 4 p.m., eastbound delays were approximately 5 miles prior to the Bay Bridge. The bridge was under limited restrictions with no house trailers or empty box trailers allowed and two-way traffic operations prohibited. A gust of 69 mph was recorded there.
The following restrictions and warnings were implemented on all Maryland Transportation Authority bridges:
Wind Warnings (sustained wind speeds of 30-39 mph for a continuous period of 10 mins or more; or wind gusts persistently exceed 30 mph over a period of 15 mins) operators of house trailers, box trailers, motorcycles, vehicles with roof-mount racks containing cargo or any other vehicle that may be subject to high winds are advised to use caution while traveling across the bridge.
Limited Wind Restrictions (sustained wind speeds of 40-49 mph for a continuous period of 10 mins or more; or wind gusts persistently exceed 40 mph over a period of 15 mins) house trailers, empty box trailers or any vehicle that, in the opinion of law-enforcement personnel, may not safely cross the bridge will be prohibited from traveling the bridge. Motorists who are denied passage will be assisted with safely turning around.
Full Wind Restrictions (sustained wind speeds exceeding 50 mph for a continuous period of 10 mins or more; or wind gusts persistently exceed 50 mph over a period of 15 mins) only automobiles, pickup trucks, flatbed trailers, commercial buses and heavy-laden tractor/trailers are permitted to cross the bridge. Tractor-box trailer combinations will not be permitted to cross any bridge if the gross weight is less than 64,000 pounds.
Traffic Holds/Bridge Closure (sustained wind speeds exceeding 55 mph for a continuous period of 10 mins or more; or wind gusts persistently exceed 55 mph over a period of 15 mins) In the event of a sudden increase of sustained wind speeds or wind gusts that could jeopardize life or property, the MDTA may elect to discontinue the movement of all traffic across the bridge.
DC, Maryland, Northern Virginia Weekend Forecast
Temperatures plummet overnight with lows falling into the mid-30s to mid-40s. Wind chills Saturday morning will be in the 30s areawide with breezy winds. Frost is possible in the most rural areas well west of Washington early Saturday.
Winds will subside throughout the day the temperature warming to near 70 degrees.
Sunday will feel like summer with highs in the low 80s and plenty of sun.
Some scattered showers are likely on Monday, especially later in the day.