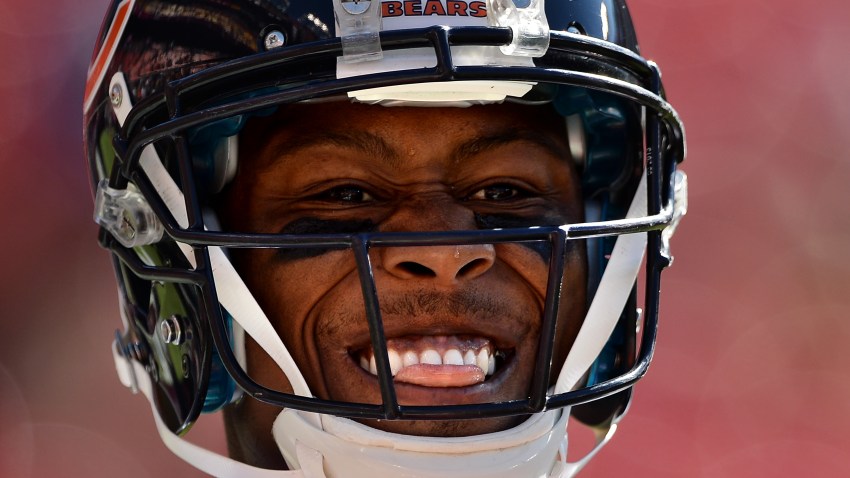 Remember when I said that the Redskins were going about making people forget about their lopsided loss Sunday the wrong way? Here comes Part II.
Brandon Meriweather missed Sunday's game after being suspended for two reckless hits against the Bears the week before. After that game, Bears wide receiver Brandon Marshall, who was on the receiving end of one of Meriweather's illegal hits, voiced his frustration.
"I respect the league trying to better our game," Marshall told reporters at the time. "Guys like that, maybe he needs to get suspended or taken out of the game completely."
Well, Meriweather finally had a chance to respond, and boy did he ever.
"Everybody got their opinion," Meriweather told reporters. "He feel like I need to be kicked out of the league? You know, I feel like people who beat their girlfriends should be kicked out the league, too. So, you tell me who you'd rather have: Somebody who play aggressive on the field, or somebody who beat up their girlfriend? You know, everybody got their opinion, so that's mine, that's his."
Meriweather is referring to Marshall's past run-ins with significant others as detailed below by Zac Boyer:
Marshall was the subject of a civil suit filed by one of his former girlfriends, Rasheedah Watley, who accused the receiver of battery in separate incidents in 2007 and 2008. That suit was dismissed in court in May 2012.

He was also stabbed by his wife, Michi Nagomi-Marshall, in the stomach in April 2011 – an incident that played a role in his trade from the Dolphins to the Bears shortly thereafter.
But wait, there's more. Meriweather then discussed his "approach" to "tackling."
"To be honest, man, you've just got to go low now, man," Meriweather said. "You've got to end people's careers, you know? You've got to tear people's ACLs and mess up people's knees now. You can't hit them high no more. You've just got to go low."
Man oh man.
There is only one way to avoid criticism: do nothing, say nothing, and be nothing #MachineMarshall — Machine Marshall (@BMarshall) October 28, 2013
---
Follow Adam on Twitter @AdamVingan and e-mail your story ideas to adamvingan (at) gmail.com.