Nine people have been injured -- including four who were stabbed -- and at least 33 arrests have been made during a volatile night of clashes between supporters of President Donald Trump and counterprotesters in Washington, D.C.
Other Trump supporters and self-identified Proud Boys vandalized at least 4 D.C. churches Saturday night, including burning Black Lives Matter signage, according to officials.
These incidents are being investigated as potential hate crimes, D.C. Police Chief Peter Newsham said at a press conference Monday.
We're making it easier for you to find stories that matter with our new newsletter — The 4Front. Sign up here and get news that is important for you to your inbox.
Saturday night's chaotic scenes follow a day of rallies that brought crowds of Trump supporters to town. In late afternoon, police said that beyond minor scuffles, there had been no major acts of violence or criminal activity as of late afternoon.
After sunset, however, tense moments began to unfold, with sporadic clashes breaking out between Trump supporters and counterprotesters. Officers attempted to keep members from opposing groups separated.
Local
Washington, D.C., Maryland and Virginia local news, events and information
D.C. police tell News4 that the 33 arrests made Saturday in Downtown Washington amounted to the most protest-related arrests in a single day since August 13, during the George Floyd protests. 
Newsham said that while Saturday night involved conflict between "mutual combatants," there were "large numbers of folks who self-identified as Proud Boys" and "smaller numbers, in my estimation, of folks who I would describe as anti-Trump groups."
He further specified that the ratio of Trump supporters to counterprotesters was about 6:1 or 7:1 by his estimation.
---
Metropolitan Police officers and D.C. Fire & EMS crews were called to the 500 block of 11th Street NW for the report of a stabbing involving demonstrators.
The four victims were all transported with critical injuries but are expected to survive, D.C. Fire & EMS said.
Phillip Johnson of Northwest D.C., 29, was charged with assault with a dangerous weapon in connection to the quadruple stabbing, D.C. police said. Johnson was the assault victim police said was transported from the area of the stabbings with non life-threatening injuries.
On Sunday, Corey Nielsen, 39, of Robbinsdale, MN, was arrested and charged with simple assault, also in relation to the stabbing incident.
Detectives are attempting to identify additional suspects in the case and are sharing photos captured by cameras in the area.
"Anyone who can identify these individuals or who has knowledge of this incident should take no action but call police at (202) 727-9099," MPD wrote in a press release Monday.
At least 33 people were arrested in relation to the unrest Saturday evening, said the office of D.C. Mayor Muriel Bowser and D.C. Police. The arrests include the following:
11 simple assaults
10 assaults on a police officer
Six disorderly conduct incidents
Four riotous acts
Two charged in crossing a police line
Two weapons violations - Possession of a prohibited weapon
Two release violations - (One out-of-state failure to appear; one was a fugitive of justice)
One assault with a deadly weapon
One resisting arrest
D.C. Fire and EMS reports has had no additional transports since last Saturday night.
Earlier in the evening, video posted on Twitter by News4's Darcy Spencer showed large crowds of people gathered or possibly marching through an intersection as police officers stood by. Spencer reported that it appeared people were throwing water bottles at police.
Clashes were violent at times, with some people engaging in fist fights, Spencer reported. Others were seen getting their eyes washed out.
In other incidents, two D.C. police officers were suffered non-life-threatening injuries near 16th and K streets, and two other demonstrators were transported with minor injuries earlier Saturday evening.
A total of eight D.C. police officers were injured, all suffered non-life threatening injuries.
News4 has reached out to Black Lives Matter D.C., to other counter demonstration groups and to organizers of Saturday's pro-Trump rallies and was awaiting comment.
During the day Saturday, rallying around chants of "we want Trump" and "four more years," protesters listened to speakers including former national security advisor Michael Flynn and conspiracy theorist and Infowars host Alex Jones.
By 4 p.m., six people had been arrested during the demonstrations downtown, the Metropolitan Police Department told News4. Police have not confirmed exactly where the arrests were made but said they were all in the general area of Freedom Plaza. At least one of the charges was for simple assault. More information was not immediately available.
WTOP's Ken Duffy reported there were clashes between D.C. police and anti-Trump protesters near the corner of 16th and I streets NW on Black Lives Matter Plaza in late afternoon. Video from Duffy showed people hurling objects and shouting. A smoky substance was visible in the distance.
"Small shoving matches turned into violent brawls at 16th & I Streets with water bottles, smoke bombs thrown," Duffy reported on Twitter.
Photos: President Trump's Supporters, Counterprotesters Show Up for Million MAGA March
At least seven different groups marched through streets downtown during the daytime rally, D.C. police officers in charge of traffic control said.
A gigantic blue and white flag reading "Trump Law and Order" was unfurled by members of the crowd.
Attendees had a point to make: they're not buying the election results, even though there's been no evidence of fraud.
"It's a shame what they're doing to President Trump," one man said.
Embedded in some of those marches were people wearing insignia for the Proud Boys and the black and yellow colors associated with the organization, which the FBI has branded an "extremist group with ties to white nationalism."
The Million MAGA March and Women for America First were among the groups that planned to rally, according to event permits issued to those organizations by the National Park Service. They convened the weekend before electors are set to meet in their states Monday to cast Electoral College votes.
"Thousands of people forming in Washington (D.C.) for Stop the Steal. Didn't know about this, but I'll be seeing them!" President Trump said on Twitter.
Just after 10 a.m., he made a motorcade drive-by around Freedom Plaza for his supporters.
"We are here to show our support for President Trump, and that's the bottom line," said one man, who donned a red Trump 2020 baseball cap. "We wanted to let him know that he's not in this alone; we're here to support him 100%."
Million MAGA March organizers said they were demonstrating against corruption and dishonesty.
There's no evidence of widespread fraud in the 2020 presidential election, experts and officials including Attorney General William Barr have said, despite repeated claims without evidence from Trump and some of his allies.
A former Republican candidate for the U.S. House from New York, Constantin Jean-Pierre, said he hoped the rally would bring people together to discuss what comes next after the latest setback for Trump -- a rejection by the Supreme Court.
"I wanted to show Trump support," Jean-Pierre said. "We're going to get some type of resolution. We're going to find out what we do next after the Supreme Court justice ruling."
The night before the demonstrations, as supporters flowed into downtown, a crowd of Trump supporters took to the streets, at one point converging and kneeling at the Washington Monument.
Scuffles broke out between demonstrators and counterprotesters, resulting in five arrests, police said. Three of those arrested were from Maryland, one was from Virginia and one was from New York, police said.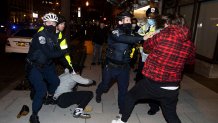 Saturday's demonstrations came less than a month after similar events, during which participants protested election results they said were fraudulent.
That evening, the night of Nov. 14, some violent clashes between Trump supporters and counterprotesters erupted on downtown streets. Dozens of people were arrested, and two police officers were injured, according to the office of D.C. Mayor Muriel Bowser. Police responded to numerous reports of fights, and one person was stabbed in a fight that police said was related to the protests.
Ahead of this weekend's marches, some street closures and parking restrictions were put into place.
Street Closures
The following streets are restricted to vehicular traffic Saturday from about 6 a.m. to 11:59 p.m. According to a release from D.C. police: "The decision to restrict vehicles will be based upon public safety and if safe to do so, vehicles will be allowed to enter the restricted area if they are on essential business or traveling to-and-from their residence."
• Constitution Avenue from Pennsylvania Avenue to 23rd Street NW
• Independence Avenue SW from 14th Street to Ohio Drive SW
• K Street from 9th Street NW to 18th Street NW
• I Street from 9th Street NW to 18th Street NW
• H Street from 9th Street NW to 18th Street NW
• New York Avenue from 9th Street NW to 15th Street NW
• New York Avenue from 17th Street NW to 18th Street NW
• G Street from 9th Street NW to 15th Street NW
• G Street from 17th Street NW to 18th Street NW
• F Street from 9th Street NW to 15th Street NW
• F Street from 17th Street NW to 18th Street NW
• E Street from 9th Street NW to 15th Street NW
• E Street from 17th Street NW to 18th Street NW
• D Street from 5th Street NW to 9th Street NW
• D Street from 17th Street NW to 18th Street NW
• C Street from 3rd Street NW to 6th Street NW
• C Street from 17th Street NW to 18th Street NW
• Pennsylvania Avenue NW from 3rd Street NW to 15th Street NW
• Pennsylvania Avenue NW from 17th Street NW to 18th Street NW
• Indiana Avenue from 3rd Street to 5th Street NW
• 3rd Street from Independence Avenue SW to D Street NW
• 4th Street from Independence Avenue SW to Pennsylvania Avenue NW
• 4th Street from Indiana Avenue NW to E Street NW
• 5th Street from Indiana Avenue NW to E Street NW
• 6th Street from Constitution Avenue NW to E Street NW
• 7th Street from Independence Avenue SW to E Street NW
• 9th Street from Constitution Avenue NW to E Street NW
• 10th Street from Constitution Avenue NW to L Street NW
• 11th Street from Pennsylvania Avenue NW to L Street NW
• 12th Street from Constitution Avenue NW to L Street NW
• 13th Street from Pennsylvania Avenue NW to L Street NW
• 14th Street from Independence Avenue SW to L Street NW
• 15th Street from Independence Avenue SW to L Street NW
• 16th Street from H Street NW to L Street NW
• Vermont Avenue from H Street NW to L Street NW
• Connecticut Avenue from H Street NW to L Street NW
• 17th Street from Independence Avenue SW to L Street NW
• Madison Street from 3rd Street NW to 15th Street NW
• Jefferson Street from 3rd Street SW to 15th Street SW
• 12th Street Tunnel
• 9th Street Tunnel
Parking Restrictions
Some parking restrictions began Thursday evening and will remain in effect through Sunday at 11:59 p.m. for the following streets:
H Street from 15th Street to 17th Street
I Street from 15th Street to 17th Street
Connecticut Avenue from H Street NW to L Street NW
Vermont Avenue from H Street NW to L Street NW
15th Street from I Street to K Street NW (west side of McPherson Square)
17th Street from I Street to K Street NW (east side of Franklin Square)
The following streets are posted as Emergency No Parking on Saturday from 12:01 a.m. to 11:59 p.m.:
Constitution Avenue from Pennsylvania Avenue NW to 23rd Street NW
Pennsylvania Avenue from 3rd Street NW to 18th Street NW
I Street from 9th Street NW to 15th Street NW
I Street from 17th Street NW to 18th Street NW
H Street from 9th Street NW to 15th Street NW
H Street from 17th Street NW to 18th Street NW
K Street from 9th Street NW to 18th Street NW
New York Avenue from 9th Street NW to 15th Street NW
17th Street from Constitution Avenue NW to L Street NW (west side of Farragut Square)
15th Street from Constitution Avenue NW to L Street NW (east side of McPherson Square)
16th Street from K Street to O Street
14th Street from Independence Avenue SW to L Street NW
13th Street from Pennsylvania Avenue NW to L Street NW
12th Street from Constitution Avenue NW to E Street NW
11th Street from Constitution Avenue NW to E Street NW
10th Street from Constitution Avenue NW to E Street NW
9th Street from Constitution Avenue NW to Pennsylvania Avenue NW
7th Street from Independence Avenue SW to E Street NW
6th Street from Constitution Avenue NW to E Street NW
4th Street from Independence Avenue SW to Pennsylvania Avenue NW
3rd Street from Independence Avenue SW to Pennsylvania Avenue NW
New York Avenue from 18th Street NW to 17th Street NW
C Street from 18th Street NW to 17th Street NW
D Street from 18th Street NW to 17th Street NW
Madison Drive from 3rd Street NW to 15th Street NW
Jefferson Drive from 3rd Street SW to 15th Street SW