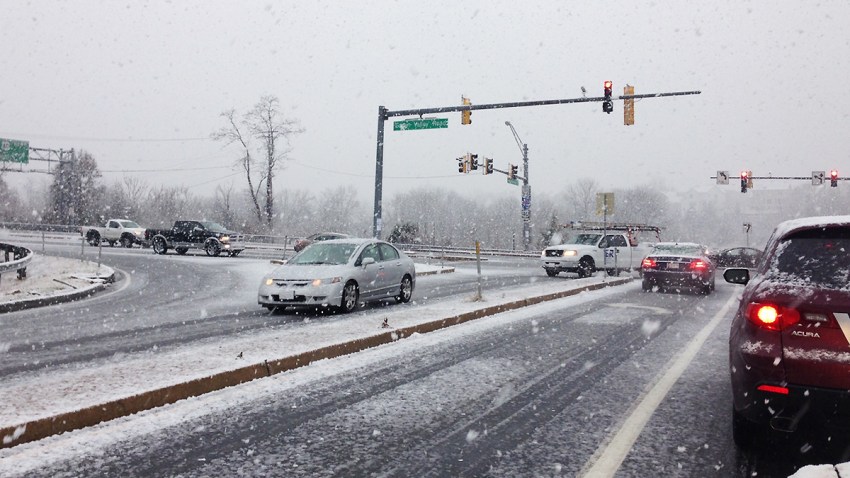 If you plan on hitting the road Thursday during the early morning hours, you'll want to be especially careful on residential streets.
Temperatures dipping below freezing for the majority of the D.C. area could have frozen any leftover snow or water from Wednesday, providing dangerous driving conditions.
Pre-Thanksgiving rain and snow blanketed the mid-Atlantic and Northeast, leading to hundreds of canceled flights for our neighbors to the north. Snow was still falling over the Northeast into Thanksgiving Day, NBC News reported. The heavy snow also caused power outages from West Virginia to Vermont.
Closer to home, the early winter blast began Wednesday morning as rain, which turned into snow in many areas as the system moved east. Roadways were snow-covered and slippery north and west of D.C.
A snow emergency was declared around midday Wednesday in Frederick, Maryland, but was rescinded at 6 p.m. Anyone driving there was required by state law to have snow tires on their vehicles. Drivers were not permitted to park along snow emergency routes.
In advance of the wintry weather, Maryland highway officials had cautioned drivers to change their travel plans to Tuesday or Thanksgiving.
"While pavement temperatures are warm, any prolonged snow fall will quickly change that and road conditions could be slippery and difficult to navigate, even with our crews salting and plowing," said Melinda B. Peters of the Maryland State Highway Administration (SHA) in a release.
For real-time traffic updates, travelers can use SHA's free information service by dialing 511. An interactive map and traffic cameras are available at www.MD511.org.
The snow that accumulated Wednesday should melt on Thanksgiving. Thanksgiving Day should be partly sunny and chilly, with a high near 40.
The heaviest snow inland will be in New England. Anyone driving into Massachusetts and farther north found heavier snow Wednesday night.
---

Get the latest weather from NBCWashington.com:
Download our FREE weather apps for iPad and iPhone. You can also follow us on Twitter and Facebook, and sign up for our e-mail newsletters.