The man who police said fired into the housing complex courtyard where a 16-year-old girl was shot and killed the day after Thanksgiving has turned himself in to police, a source close to the investigation told News4.
Saeve Evans, 30, was taken in to custody Tuesday evening, the source said.
Breyona McMillian, 16, died after she was shot multiple times Friday morning on the 1200 block of I Street SE, near her mother's home in the Potomac Gardens housing complex.
Evans was caught on surveillance video firing a gun multiple times near the time McMillian was shot, Interim Police Chief Peter Newsham said at a news conference Tuesday morning.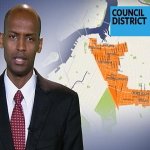 "It was almost noon on a relatively nice day. There were a number of people out there, and Saeve Evans discharged a firearm under those circumstances, which in my opinion was absolutely reckless," Newsham said.
It was not clear whether Evans is believed to have fired the shot that killed McMillian.
Police said Tuesday morning that they issued a warrant for Evans' arrest for unlawful possession of a firearm. Newsham asked him to come forward.
"If he is listening and has any conscience, we ask that he turn himself in," he said.
McMillian grew up in D.C. and was home from out of town for Thanksgiving. She had been attending a boarding school in Iowa.
Local
Washington, D.C., Maryland and Virginia local news, events and information
"Everybody loved her," McMillian's cousin Quashawn Wheeler said Friday about the teen known to loved ones as "Bre."
Evans was arrested in August 2014 after police said he and another man were believed to have shot and injured three men and three women in an alley near Nationals Park.
He was found living in an upscale neighborhood in Fort Washington, Maryland, with a group of squatters, police said.
Evans was charged in May 2015 in that shooting but the case was dismissed.
Court documents show that one witness was a paid confidential informant. Two additional witnesses refused to cooperate and a fourth person said they did not know what happened.
The U.S. Attorney's Office declined to comment.
Sources told News4 that Evans had been a victim of gun violence himself. In one incident, he reportedly was shot more than six times. He survived, recovered and returned to the streets, News4's Pat Collins reported.
Anyone who knew Evans' whereabouts was asked to call police immediately at 202-727-9099 or by sending a text message anonymously to 50411.