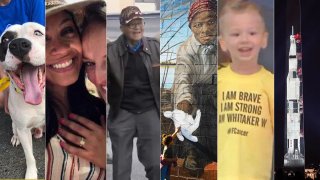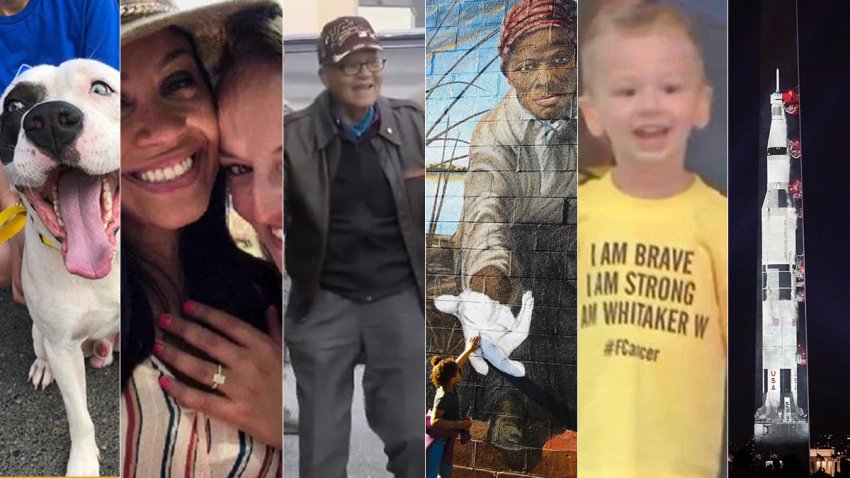 Every day, countless people in the D.C. area do something to make the community better. Whether it's an act of kindness, a major effort or a hard-fought personal milestone, these stories inspire us and warm our hearts.
Generosity, perseverance, compassion, kindness, joy: These are some common values in the top feel-good stories that NBC4 reported on this year.
Football Coach With Down Syndrome Marks 20 Years With Maryland School Team
Ramon De Paula was born with Down syndrome, but never let a disability stop him from following his dreams. He started on the Walt Whitman High School football team as an equipment manager and worked his way up to assistant head coach over the next 20 years.

"I love them very much. Being 20 years with the football team, it's the biggest landmark in my life," he said.
Local
Washington, D.C., Maryland and Virginia local news, events and information
José Andrés Feeds Furloughed Workers, Hurricane Victims
Famous D.C. chef and restaurateur José Andrés has handed out thousands of meals to people in need through his nonprofit World Central Kitchen.
NBC Washington readers were touched when Andrés opened an "Emergency Kitchen" for furloughed federal workers during the weeks-long government shutdown that began in January 2019.
"To have someone welcome us warmly and give unconditionally to us, it really makes a difference," one federal worker said.
Andrés work extends far beyond the Beltway, too. As Category 5 Hurricane Dorian lashed the Bahamas, the chef visited the chain of islands to hand out hot meals to those in need.
"We're doing what we do: Getting ready to feed anyone who needs a plate of food," he told NBC4.
Furloughed Sisters Turn Hardship into Sweet Success
When the government shutdown put sisters Nikki Howard and Jaqi Wright out of work and without a paycheck, the duo started a cheesecake business — and it took off.
Like many of the 800,000 federal workers who went without pay, Howard and Wright struggled with past-due bills and other expenses. Both women also have husbands who are unable to work because of disabilities.
But out of that hardship, they baked up something great: A new business called Furlough Cheesecake. The two found great success this year, with Ellen Degeneres placing a $20,000 order and getting a sales deal at Walmart.
Young Girl High-Fives Harriet Tubman Mural in Maryland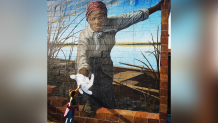 At 3 years old, Lovie Hope Duncan likely didn't fully understand the powerful story of Harriet Tubman, who was born into slavery, escaped North and helped to rescue dozens of people before the Civil War.
But Lovie immediately was drawn to a larger-than-life mural of Tubman painted in Dorchester County, Maryland. A photo of her reaching out to touch the abolitionist's hand was shared thousands of times on social media.
"That's exactly what I wanted to happen when I conceptualized the design. I was blown away," the mural's artist, Michael Rosato said.
Alexandria Man Wins $5 Million Lottery Prize With Spare Cash
An Alexandria man hoped to win the big Powerball jackpot but wound up millions of dollars richer thanks to the scratch-off ticket he bought with his leftover cash.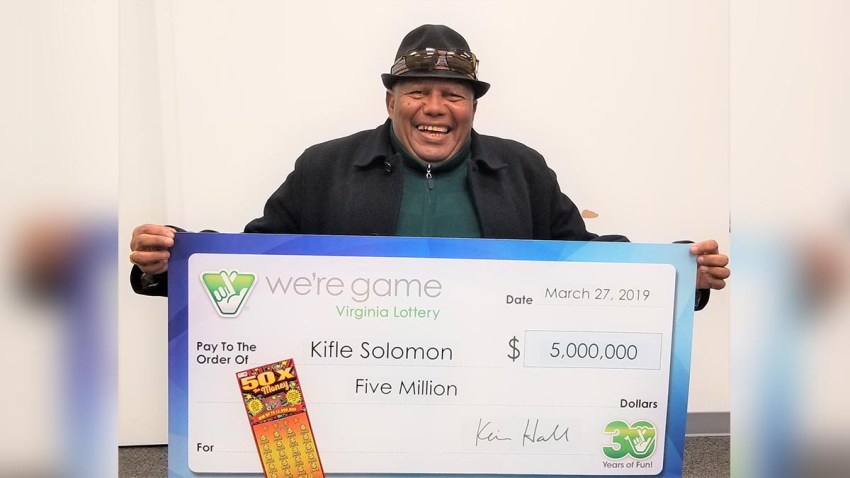 The Powerball ticket didn't give him a win — but that last ticket landed Kifle Solomon the top $5 million prize.
"I couldn't believe my eyes!" Solomon said when he got his big check.
NBC4's Meagan Fitzgerald Announces Engagement During Pride Month
When News4 reporter Meagan Fitzgerald got engaged during Pride Month, she wanted to take a moment to acknowledge that being gay, lesbian, bisexual or transgender takes courage. She told viewers it's a process to find out who you are then become comfortable in your own skin.
"Being just who you are is enough. I know this because I've been through that journey," Fitzgerald said.

Fitzgerald announced that she and her "beautiful fiancée" Kelly Heath were engaged after a proposal along the Tidal Basin.
We're still counting down to an NBC Washington wedding.
Richmond Teacher Gives Student Shoes Off His Own Feet to Walk at Graduation
Graduation is a time for students to celebrate their accomplishments and walk across the stage for personal recognition. But when a fifth grader's shoe broke before the ceremony at George Mason Elementary in Richmond, Virginia, the experience was jeopardized.
When Vohn Lewis, a substitute teacher known as 'Mr. Lewis' at the school, noticed the boy's parent and a guidance counselor looking for a solution, he says he didn't even think about it.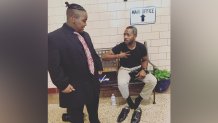 "I just moved with my heart," Lewis said.
A picture of the sweet exchange went viral on social media.
"You should always be willing to give and always willing to be a blessing to someone else," Lewis said.
We Have Liftoff: National Air and Space Museum Projects Saturn V Rocket on Washington Monument
In honor of the 50th anniversary of the Apollo 11 mission, the National Air and Space Museum recreated the historic moment with a life-sized projection of the Saturn V rocket on the Washington Monument.

In many ways, Americans were divided in 2019. But marking one of the United State's biggest accomplishments brought together huge crowds from diverse backgrounds to witness something spectacular together — even in the sweltering summer heat.
Not only was the display stunning, but it was the first time a large-scale projection had ever been put onto the Washington Monument.
Metro Transit Officer Helps 4-Year-Old Boy With Autism
A young mom posted a photo of a Metro Transit Police officer holding hands with her 4-year-old boy. Then, the photo — and the story that goes with it — went viral.
Officer Dominic Case helped calm Andrew Pomilla down after he had a meltdown on a train on Friday during rush hour. Andrew has autism.

"It was that regular toddler tantrum, and then it very quickly started to escalate and he was getting really upset," Andrew's mother, Taylor Pomilla, told News4.
But then Case showed up to lend a helping hand.
"Andrew so beautifully just took his hand and was calm," Pomilla said.
Case not only helped calm Andrew down, but rode with them all the way home.
Clear the Shelters: 800+ Pets Adopted in the D.C. Area

Hundreds of animals in the D.C. area — and thousands nationwide — found their forever homes in August during one of NBC Washington's favorite events of the year.
More than 815 animals were adopted into forever homes in the D.C. area that Saturday, while another 255 went to new homes in the Baltimore area, and nearly 100 found homes in the Richmond area.
Maryland Couple Receives Postcard 60 Years After It Was Sent
A message from the past delighted a Maryland couple — and sparked a mystery about the note's intended recipient.
Postmarked in 1960, the card apparently traveled from Europe and through multiple U.S. cities before landing in the Bethesda mailbox it was destined for. The postcard was addressed to Mr. and Mrs. B.H. Knobla but was received by Cindy Loeper and Steve Miksell.

"It's such a mystery," Loeper said. "Like, where did it live for the last almost 60 years? The bottom of some mail carrier's bag?"
Community Gives 4-Year-Old Cancer Survivor Yellow-Themed Birthday Party of a Lifetime
Whitaker Weinberger loves "Transformers" and the color yellow, which both gave him some joy when he was fighting cancer in the hospital during his first three birthdays.
So when Whitaker was about to turn 4, his Virginia community banded together to make it special. He walked out the door for school to dozens of yellow cars, trucks, buses and more, waiting to surprise him.

"This is a whole community doing something to make just one person's day," the boy's father said.
"Sorry Not Sorry for Partying": Triumphant Nats Ride Zamboni Shirtless in Celebration With Caps
D.C. sports fans will likely never forget the period when the Capitals, the Mystics and finally the Nationals each brought home championship titles in roughly two years.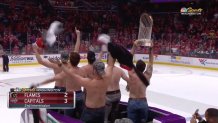 But if that didn't warm your heart enough, seeing the baseball and hockey teams come together for a mega-celebration surely did.
"Sorry not sorry for partying," the team said in a tweet that showed them bare-chested on the Zamboni, hoisting the Commissioner's Trophy at Capital One Arena in D.C.
The moment was a culmination of a hard-fought season, where the Nats just made it to the postseason but went on for a legendary finish to the fight.
Tuskegee Airman Celebrates 100th Birthday
Thanks to private supporters and the U.S. Air Force, Col. Charles McGee spent his 100th birthday co-piloting a Cirrus Vision jet.
McGee flew with the Tuskegee Airmen during WWII. The group achieved legendary status for valor in WWII despite the racial discrimination they faced in the U.S. Military.
"What a thrill where technology has taken us," McGee said.
DC Store Honors Gift Certificate Couple Received for 1969 Wedding
It's one thing to find an old gift certificate. It's a whole different level when you find one given as a wedding present just before your 50th anniversary.
That's exactly what happened to George and Kathy Jones, who found in their wedding album a certificate for one teaspoon, one place knife and one place fork in a "Rose" pattern.

Now great-grandparents, the Jonses were sorry they hadn't redeemed it. But Bensons Jewelers shop has been open downtown since the '30s.
Owner Ken Stein had to purchase the pieces from a re-seller, but says it was worth it.
"Oh, I lost money, but I've gained a customer and I gained a good story out of it. I think it's a cool thing to do," Stein said.
Couple That Saved Toddler With CPR on I-295 Reunites With Grateful Mom, Boy
"This is what Christmas really means."
That was what Samantha Lebbie-Adderley said about the decision to pull over on I-295 in Maryland when they saw a child having a seizure on the side of the road.
Aayden, just 1 year old, suffered a serious medical emergency in the car on Christmas Eve. His mom, Amber Williams, pulled over and called for help.

A couple — complete strangers to Williams — stopped to help. They performed CPR and helped care for Williams' older child as Aayden was rushed to the hospital.
When they reunited, it was an emotional moment for everyone involved.
"They saved him," Williams said. "I'm truly thankful for them because I really don't know what I would have done without my son."