A Maryland couple got a gift certificate for their wedding in November 1969 and tucked it away.
Five decades later, as they celebrate their 50th wedding anniversary, a D.C. store let them redeem the forgotten gift certificate for three pieces of silver.
The downtown D.C. shop Bensons Jewelers redeemed the certificate on Monday, almost 50 years to the day after it was issued.
George Jones said he was delighted that the store owner agreed to honor the certificate for three pieces of sterling silver flatware.
"I really thought they would say, 'Hey, you know, time has expired,'" Jones said in the store with his wife at his side.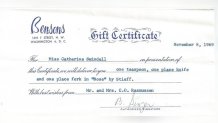 Retired now and getting ready for their 50th anniversary, the Joneses went through their wedding album a few weeks ago. They found the gift certificate there, dated Nov. 8, 1969. Jones' wife, Cathy Jones, née Catherine Swindell, received it as a gift from her boss at the time.
Local
Washington, D.C., Maryland and Virginia local news, events and information
"One teaspoon, one place knife and one place fork in 'Rose' by Stieff,'" it said.
Jones had been building a set of Stieff Silver for years.
The Joneses — who now are great-grandparents — said they were sorry to find the unused gift certificate. They remembered it from time to time over the years but never made it from their home in Anne Arundel County to D.C. to get their gift.
"I was sad that we had not honored those people by redeeming it," Cathy Jones said.
George Jones went online and found that the Baltimore factory that made the sterling silver utensils stopped making silver in 2007. Then he looked to see if the store listed on the gift certificate was still open. It was, and has operated downtown since the '30s.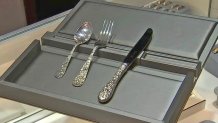 George Jones emailed the store, and owner Ken Stein said he would be happy to honor the gift certificate. He had to buy the utensils from a reseller.
"Oh, I lost money, but I've gained a customer and I gained a good story out of it. I think it's a cool thing to do," Stein said.
He said he honored it, too, to honor his father and the business he built.
The Joneses said they plan to put the silver and the old gift certificate on display in their house, so they can share the story. But first, they planned to use it Monday night, when their great-granddaughter was set to come over for dinner.