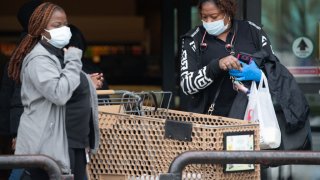 Masks or face coverings will be required in all Maryland grocery stores and pharmacies and on public transportation starting Saturday morning, the governor announced Wednesday. 
The state announced 40 deaths from the virus on Monday and an additional 47 deaths on Tuesday, marking the deadliest 48 hours of the virus crisis in the state thus far.
Gov. Larry Hogan said the mask order designed to slow the spread of coronavirus will go into effect at 7 a.m. Saturday, to give businesses time to prepare. 
The order will require the wearing of masks or face coverings when inside any retail establishment, including grocery stores, convenience stores and pharmacies, or on any form of public transportation.
All store staff members also must wear face coverings and implement social distancing measures. 
The order follows multiple orders by counties and cities that their citizens wear masks.
Statewide, 10,032 cases have been confirmed and 349 people with the virus have died. The state has identified an additional 64 probable deaths because of the virus. Go here for full details.
Local
Washington, D.C., Maryland and Virginia local news, events and information
Hogan recognized the "extraordinary sacrifices of Marylanders" and said there are reasons to be cautiously optimistic.
"There is clearly a light at the end of this tunnel," he said.
State officials and economic experts are looking at how and when to reopen the state and economy. But it must be "thought-out, gradual and safe," the governor said.
"We want our economy back, we want to get people back to work but we want to do it in a safe way," he said.
Additionally, the state will quadruple the number of people who do contract tracing of virus patients, from about 250 to 1,000.
Here's what's allowed and prohibited under the stay-at-home order in effect in the state.
Earlier Wednesday, D.C. extended its stay-at-home order to May 15. Virginia extended restrictions on businesses for another two weeks, until May 8. The end date of Virginia's stay-at home order is still June 10.
Stay with NBC Washington for more details on this developing story.