A man suspected of killing a young father as he installed solar panels last month remains at large after shooting at officers in Washington, D.C., Tuesday morning, police say.
A 911 caller reported seeing 27-year-old Avery Miler in the 5300 block of Ames Street NE about 6:20 a.m., Metropolitan Police Department Assistant Chief Leslie Parsons said. Miler is wanted in the slaying of 25-year-old father Aryeh Wolf, who was installing solar panels in Southeast D.C. when he was shot and killed Aug. 10 about a mile-and-a-half from where Avery was seen Tuesday.
Officers responded to the Northeast neighborhood Tuesday morning and saw a suspect matching the 911 caller's description.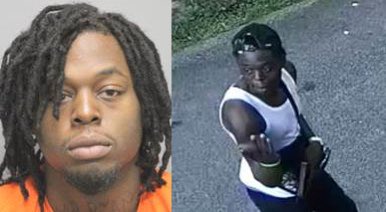 Miler allegedly fired several shots at officers, then ran into the residential building. No officers were injured, Parsons said.
Police set up a perimeter extending several blocks and searched for Miler for hours. U.S. Marshals and officers with the Bureau of Alcohol, Tobacco, Firearms and Explosives joined the investigation, and an armored truck carried officers wearing SWAT uniforms to the scene.
Miler was last seen wearing all black clothing with white letters on the sleeve of his shirt, plus some sort of reflective shoes, Parsons said.
He's wanted on a warrant for first-degree murder, police said. The reward for information leading to Miler's capture was increased from $25,000 to $55,000 with contributions of $15,000 from the ATF, $10,000 from the U.S. Marshals Service and $5,000 from the FBI.
"This suspect had no regard for anybody's life, had no regard for the safety of our communities in broad daylight, early in the morning when people are going to work, kids are going to school," Parsons said. "He decided to pull a firearm and just discharge it recklessly in the direction of uniformed officers. That's not acceptable here in the District and any community, and we're not going to tolerate that."
There was no indication that officers returned fire toward the suspect, but body-worn camera footage will be reviewed, Parsons said.
The investigation disrupted the school day at two nearby campuses, Parsons said. Maya Angelou Public Charter School and Kipp DC Quest Academy are both nearby.
"We're out several blocks. We've been in contact and in communication with the schools," Parsons said.
One mother came to wait near a school, saying she feared for her daughter's safety.
"This is a serious situation," she said. "He could be anywhere. He could just go up to the school, run into the school and do anything."
D.C. police said another shooting investigation near Nannie Helen Burroughs and Division avenues in Northeast was most likely unrelated to the barricade.
Stay with NBC Washington for more on this developing story.