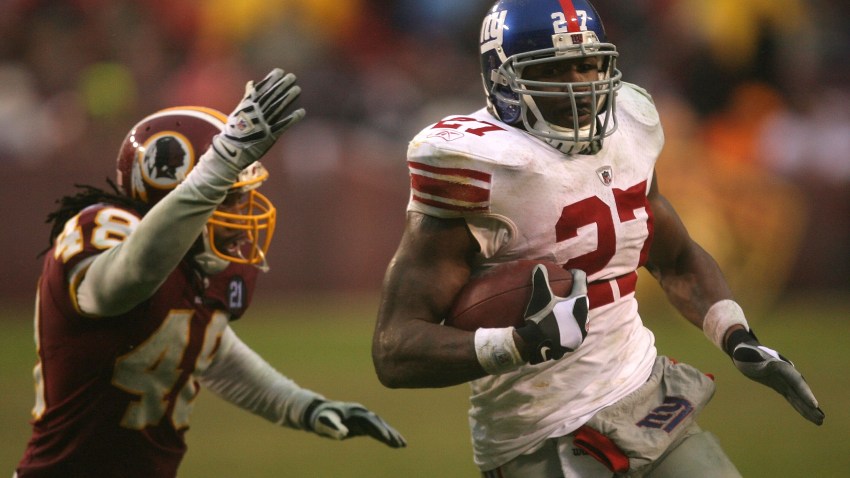 Harry Jaffe, a longtime chronicler of the people and politics of Washington, D.C., writes an occasional column for NBC Washington's First Read DMV blog.
Federal Judge Colleen Kollar-Kotelly refused to take the deal prosecutors made with serial campaign corruptor Jeffrey Thompson. They wanted to let him saunter off with no jail time. Judge said nope.
In a surprise move Monday morning, Kollar-Kotelly sentenced Thompson to three months in prison. And three months home confinement with three years probation.
Judges usually follow recommendations from the prosecutors and accept the deal. This judge, who had been on the bench for this case since 2012, was too grossed out.
"He was the leader, organizer and mastermind of this conspiracy," she said Monday.
Still, in my book, Jeff Thompson is getting off way too easy.
For injecting more than $3.3 million in dirty cash into campaigns from Texas to the District, for running a shadow campaign that helped wreck Vince Gray's 2014 mayoral reelection, for luring scores of Washingtonians to launder cash for his illegal schemes, Jeff Thompson will spend a few months in a posh federal prison and another three at home. That's a gift.
The back story of Thompson's illegal activities highlights at least two unjust aspects in our criminal justice system: money can buy you a light sentence; and plea deals can turn out to be rotten for all concerned.
When it comes to corruption, the District is no Philly, or Chicago or New York. Call it corruption light. Back in the day, Marion Barry's political advisor Ivanhoe Donaldson pleaded guilty to embezzling $190,000 in city funds. In 2003 teacher's union president Barbara Bullock pleaded guilty to looting $5 million from union funds. Harriette Walters was nabbed in in 2009 for pocketing almost $50 million in taxes she was supposed to be collecting. And former council member Harry Thomas Jr., was forced to resign and pleaded guilty to stealing $350,000 from public funds meant for teaching sports to D.C. children.
All served time.
Now we come to Jeff Thompson. A Jamaican immigrant, he learned and labored and networked his way to become president of Chartered Health, a health care consulting firm that was reaping more than $300 million in District government funds by 2012. He lavished money on friends and politicians, partied hard and spread his domain into the Clinton White House. But when Adrian Fenty ran for mayor in 2006, Thompson feared the new regime would threaten his contracts. He didn't control Fenty, so he set about to neutralize him.
Here's a list of just a few of Thompson's schemes detailed in a plea agreement filed in March 2014.
He gave $278,000 in unreported cash to former city council chairman Linda Cropp's campaign to defeat Fenty in 2006. Cropp has said she was unaware of the illegal contributions.


In 2008 he put $600,000 in unreported cash into Hillary Clinton's primary campaign against Barack Obama to drum up votes in Texas. Minyan Moore, the Clinton aide who dealt with Thompson, has said she was "entirely unaware" of any inappropriate activities.


He served up a $200,000 contract to former council member Michael Brown to drop out of the 2006 mayoral race. Brown never denied receiving the contract or working with Thompson; Brown pleaded guilty to bribery and is now in prison.


To defeat Fenty in 2010, Thompson funded a "shadow campaign" on behalf of council chair Vincent Gray with $650,000 under the table.
In all, Thompson pleaded guilty in 2014 to funneling upwards of $3.3 million in illegal contributions to local and national campaigns over the past decade. In court documents prosecutors noted that Thompson had asked public relations executive Jeanne Clarke Harris, who handled the illegal cash, to alter documents and even leave the country to avoid investigation. That adds up to obstruction of justice, but prosecutors declined to charge him.
Particularly galling for many Washingtonians is that Jeff Thompson salted away millions from contracts to make sure Medicaid recipients received health care, then he used some of those profits to corrupt the political system to preserve his cozy contracts.
How did Thompson emerge with such a sweet deal?
First, he hired Brendan Sullivan, one of the District's best and most costly white-collar defense attorneys. His firm, Williams & Connolly, charges in the neighborhood of $1,000 an hour. But it paid off, because Sullivan and his assistants drove a hard bargain: Thompson would cooperate and testify that Gray knew of the illegal scheme, if he served no jail time, according to lawyers familiar with the case.
Second, the federal prosecutors were vulnerable and easily pressured into a bad deal.
U.S. Attorney Ronald Machen vowed to prosecute public corruption, and he notched successes. In addition to Harry Thomas, Jr., he forced former council chair Kwame Brown and Michael Brown to plead to federal crimes. Investigating the 2010 "shadow campaign," he got guilty pleas from six of Vince Gray's closes aides.
But Machen, a competitive former athlete, was bent on bagging the biggest game: Mayor Gray.
In face of massive public and legal pressure, Gray maintained he knew nothing of the illegal funding scheme. His defense attorney, Robert Bennett, was Brendan Sullivan's equal. Working for a reduced fee, Bennett told me he advised Gray to decline talking to federal investigators. In public, Gray simply said he was innocent.
One by one, Machen got guilty pleas from Gray's close campaign aides: Thomas Gore and Howard Brooks, then Jeannie Clarke Harris and Vernon Hawkins. But not one would implicate Gray with enough evidence to stand up in court proving that the mayor knew of the scam.
Which forced Machen to rest his case against Vince Gray on Jeff Thompson, the serial corruptor. It was the legal equivalent of stacking a 1,000-page brief on the head of a pin. Thompson was not the best of witnesses. Aspects of his personal life invited scrutiny and might compromise his trustworthiness. His expansive history of corrupting campaigns would be hard for jurors to swallow.
"I cannot wait to cross examine Jeff Thompson," Bob Bennett told me in the midst of the case.
Federal prosecutors called Bennett in to offer Gray a deal: Would the mayor plead guilty to a misdemeanor in exchange for ending the investigation? No way, Gray and Bennett responded, Bennett told me.
His hand forced, Machen agreed to let Thompson plead to two counts and serve six months, in home confinement. He made a so-called deal with the devil: Thompson agrees to implicate Gray and get off, virtually free, according to attorneys involved in the case.
Meanwhile, Gray's re-election was approaching in the spring of 2014. Machen had to make a move: Bring Jeff Thompson to court before the primary election and hint at Gray's involvement in the scam, which would mortally wound him. Or wait until after the election, and be blamed for not coming forth earlier. Machen maintained his hands were tied, and politics never influenced his decision to go public with Thompson's charges.
Machen decided to charge Thompson in March 2014, three weeks before the decisive Democratic primary. Thompson owned up to his corrupt practices in open court. The judge forced prosecutors to name Gray as a willing and knowing participant in the shadow campaign. Without being charged, and without his day in court, Vince Gray was deemed guilty by many voters.
Then:
A wounded Mayor Gray lost the election to Muriel Bowser in April 2014.
Ron Machen left office in 2015 and returned to private practice.
Incoming U.S. Attorney Channing Phillips dropped the investigation against Gray in 2015.
And on Monday, Jeff Thompson got it over on us once again.
Yes, he's suffered. He's lost his company and his contracts. He's had to pay Brendan Sullivan's firm millions. Many now see him as a villain. And thanks to Judge Kollar-Kotelly, he will serve a few months behind bars.
In the end, justice was not served. The political process was corrupted by over-zealous prosecutors. And a bad guy got off easy.
"The kingpin, the orchestrator, they have agreed to a devil's bargain with him so he can sit home and drink champagne," said Charles Wagner, a lawyer for Gray's driver, who was forced to serve time as part of his plea deal in the case. "They give him a pass."
And that's simply not just.