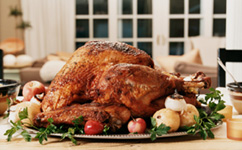 Good Thankshangover Friday to you! I hope you all enjoyed your tofurkey, turducken, tofurducken, or whatever you and yours feasted on yesterday. You now have about four weeks to recover before the next round of holiday-related gorging begins.
With most of D.C. shut down for the long holiday and residents having been scanned, patted down and jetted away to "real America," there is not much to report. Instead, DMV-area writers like the folks at Borderstan and the We Love D.C. crew focus on what they are thankful for, while Steven Glazerman, writing at Greater Greater Washington, gives thanks for some of the things he loves "about the city and the surrounding area, things we don't appreciate enough." And in a letter to city residents, interim schools chief Kaya Henderson wrote, "I am thankful for each of you and the hard work you do to support and encourage our students."
Elsewhere in the DMV:

* Slow and steady has defined Vincent Gray's career, but now that he's mayor-elect, he's facing criticism over it. The Washington Post reports that with just a bit more than a month until he takes office. Gray "has yet to name a single agency head or indicate which members of the Fenty administration he plans to retain." His "slow-to-start transition is reigniting fears about his career-long cautious decision-making style and raising concerns that he won't be fully prepared to take over," and officials both inside and outside D.C. "say that they are having difficulty obtaining information from a transition team bogged down by meetings and confusion about who is in charge."
* Greater Greater Washington's David Alpert writes that Gray and Govs. Bob McDonnell and Martin O'Malley seemed to endorse the Board of Trade's recommendations on Metro governance, which would "diminish Northern Virginia's role in governing Metro and weaken the veto which D.C. in particular often needs to guarantee its interests aren't overridden by more numerous suburban votes on the board." Alpert says Gray seems to already be "abrogating the principles he'd run upon to better listen to residents before making decisions."
* In The Post, Mike DeBonis returns to a question that came up often during the competitive D.C. Democratic mayoral primary: Should party politics play a role in D.C. election at all? DeBonis writes, "In big cities across the country, including Los Angeles, Houston and Chicago -- yes, Chicago -- some or all city offices are elected on a nonpartisan basis," and in D.C., "parties add no value to our politics. It's not just that pretty much every officeholder is a Democrat. It's that party labels tell you nothing about officeholders in this city -- not when one well-known Democrat is calling for 'welfare reform' and most Republican candidates support gay marriage rights."
* With MPD Assistant Chief Diane Groomes accused of offering help with a District police test, Washington City Paper's Rend Smith looks into whether the test was really that hard. Criminologist David Carter, who designed the test, told Smith, "I wouldn't say it was difficult at all. It's a different way of managing resources and approaching crime control. … Intelligence is all about identifying threats and stopping the threats from reaching fruition. The material is not difficult, but it is a different mindset." Still, Smith writes that Carter's guide to intelligence-led policing runs 500 pages, and "those who didn't find the material riveting might have found it hard to score the 76% or above score they needed to pass the exam."
* In Maryland, the AP reports O'Malley outspent Bob Ehrlich by nearly $3.5 million on their gubernatorial rematch. O'Malley spent about $11.2 million in all, to Ehrlich's $7.8 million. The Post says O'Malley's camp "has said roughly $800,000 was raised in a single day last month at fundraisers headlined by former president Bill Clinton and Vice President Biden."
* While it's not Jack Johnson's biggest problem right now, the exiting Montgomery County executive is being criticized by County Executive-elect Rushern Baker's transition team for being uncooperative and "even failing to help with customary procedures," The Post reports. Transition team chief Wayne Curry said "expected resignation letters from Johnson's political appointees have not been offered, as usually happens at the end of an administration," and that Johnson "has not delayed hiring, promotions, bonuses or nonessential contracts." A Johnson spokesman said he was unaware of any complaints.
* In an editorial, The Post says Loudoun County will use nearly half its recent $9.4 million federal windfall "not to employ teachers it otherwise would have fired -- but to pay teachers for working less." This is the result of a two-day teacher furlough that saved the county $4.5 million, which was "not a major sacrifice" since the county's school year "is already longer than the state requires. But teachers were incensed and threatened to picket." The county is now using some of the new funding to pay them for those days. The Post writes, "The only thing the federal money has accomplished is to turn a two-day teacher furlough into a two-day teacher paid vacation. … Loudoun's teachers are happy. Taxpayers all over America, maybe less so."
Follow P.J. Orvetti on Twitter at @PJOinDC