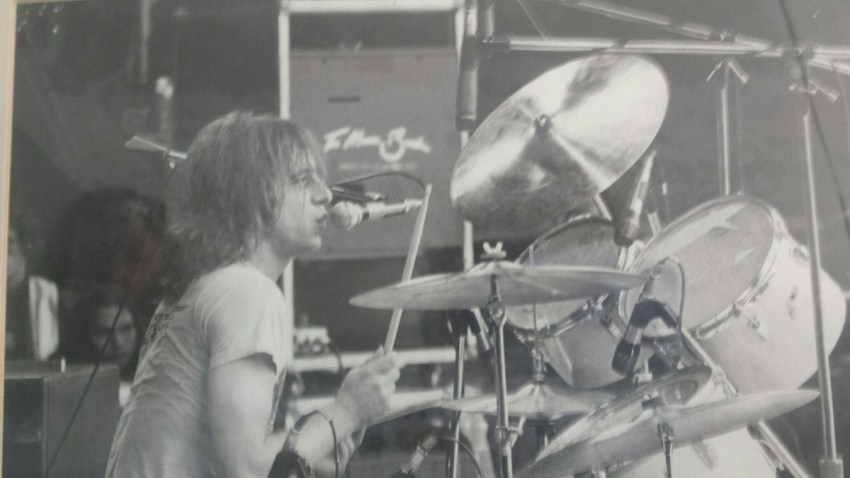 Mike Zack wasn't just a drummer. Mike Zack was a force of nature, a good-hearted friend to many and the man who provided the back beat for some of the greatest bands to hail from the D.C. region between the 1960s through the 1990s.
His career started as a 16-year-old high school student playing to sold out shows on the teen club circuit, and his talents would take him to 80,000-seat venues sharing the stage with bands like The Who.
Zack died Aug. 21 at his home in Frederick, Maryland, with his wife Rosie by his side. He was 69 years old.
Rosie had been by Zack's side since the two first met when they were 15 years old. They were married for 49 years and over those decades raised 13 dogs and four cats.
Zack's love of drumming came from listening to the local high school marching band that practiced near his home.
"They'd open with the drum cadence, and it would drive me crazy," Zack told author Mark Opsasnick.
Zack's first entrée into the spotlight came with the band Lawrence and the Arabians along with his school friend Lawrence Kidwell. From 1963 through 1967, Zack and Kidwell were the main attraction at the high school sock hops and teen club R&B shows.
Longtime drummer and friend Pete Ragusa recalls meeting Zack when the two were still in high school and Lawrence and the Arabians were playing regular gigs around Prince George's County.
"Wherever they were, we were there." Ragusa recalled. "Every show they had, we went. He had such an immense talent at such a young age. He was what you try to rise to. He set the bar in Washington, D.C. He had that 'it' that sometimes people talk about. He had talent above and beyond what other people were doing. He was magic. You couldn't take your eyes off him."
Zack was 16 years old in the ninth grade when he played his first gig with Lawrence and the Arabians. The R&B combo would regularly play before crowds of 1,000 to 1,500 fans a night.
Zack would soon move to Georgetown where he played in several bands and just about every nightclub. Zack was part of Wild Honey, a Summer of Love mainstay, which landed him on the Wing Ding, D.C.'s answer to American Bandstand. Zack spent time backing legends like guitar aces Roy Buchanan and Bobby Parker before landing with another Georgetown band, The Cherry People. Then, in the early 1970s, Zack joined DC Dog, where he was teamed with another legendary D.C.-area guitarist, Demetri "Penny" Callas.
In the mid 1970s, Zack got a call from Nils Lofgren. Lofgren, who would later make it into the Rock & Roll Hall of Fame as guitarist for Bruce Springsteen's E Street Band, had just left Grin and was preparing for his solo career. Like so many others, Lofgren wanted Mike Zack as his drummer. Zack would appear on Lofgren's legendary "Authorized Bootleg" in 1975 and would share the stage with Lofgren when they opened for The Who at London's Wembley Stadium before 80,000 fans.
"Mike Zack was my musical brother and dear friend," Lofgren remembered. "He graced my music and countless listeners with his soulful, fierce drumming and musicianship. Through many years on the road, Mike was all in, and I'm so grateful we had so many inspired times together creating and sharing music. Mike was also blessed with his wife Rosie, who was so helpful and supportive of him sharing his formidable gifts. You'll be remembered and greatly missed, Mike. Rest in peace, my friend. Love and respect."
"I had known Mike from when I first arrived in D.C. in 1969," recalled Zack's friend, veteran bass player Johnny Castle. "I was in Crank, and he was in Puzzle."
Castle has vivid memories of the first time he saw Zack playing at The Keg nightclub.
"Arooogha!" Castle exclaimed. "Look at this guy. He was fun to watch. Every beat, every stroke so intense. Everything was just right."
Zack would later audition for Crank, but that never panned out. He did get to work with Castle in Spats.
Castle showed up to audition for Spats, but before he could strap on his bass, Zack had a few words for him.
"Johnny, I chew up and spit out bass players before lunch," Zack told his friend. The two would move to Miami to record a record for Criteria records.
"The album wasn't released as much as it escaped," Castle quipped.
The two would play together only briefly but remained friends for a lifetime.
"We played great together," Castle said. "Before he would give a count, he'd close his eyes. You could see him getting that tune in his soul. Not just his head. His soul. He was just a delight."
Another member of Spats was guitarist David "Gabby" Gabaldon, who first saw Zack play in his Wild Honey days.
"Holy mackerel, he was great," Gabaldon said of his good friend and longtime neighbor.
"He was a perfectionist," Gabaldon said. "Mike was the type of character who knew all the parts of every song. He knew when it was right and when it was wrong."
Gabaldon and Zack would remain good friends for decades, the two would often read books about musical history.
"We' have endless conversations about music," Gabaldon said.
Gabaldon said one thing stuck out about Zack from the moment they met.
"I had never met anybody that serious about anything," Gabaldon recalled. "I was a student of that drive that he had and that intensity of music. That's why so many musicians wanted to play with him. You set him free and there was nothing like it. A pure sense of energy."
Zack went on to play with Dolly Parton's sister, Stella Parton, in the late 1980s and was preparing to reunite with his old friend Lofgren when Lofgren got the call from Springsteen to join the E Street Band.
Opsasnick, a music historian and author of "Capitol Rock," recalled Lofgren telling him Zack was the first call he made after getting the call from Springsteen.
Opsasnick devoted 10 pages of "Capitol Rock" to Zack's career.
"He was the first interview I did in 1993 when I began writing the book," Opsasnick said.
"He was Mr. Georgetown in the 1970s," Opsasnick said. "He was so in demand as a drummer, he really was legendary. He went from the teen clubs to the nightclubs of Georgetown to the big arenas. Mike Zack played at every level of rock 'n' roll and he conquered them all."
Zack left his mark on the music scene not only with his incredible body of work, but also with the musicians he inspired along the way.
Veteran drummer Timm Biery considers Zack as pivotal to his career.
"When I was younger, years before we first met, I wanted to be Mike Zack," Biery said with a heavy heart. "He had the best gigs, lived in the coolest part of town and was revered by every musician I met. The first time I saw him play at the Keg, I just couldn't believe it. Mike opened my eyes to what you could achieve playing drums in a rock band. And his joy was infectious! I wanted to experience that, and Mike inspired me to make it happen. I will miss my brother more than words can say."
Guitar virtuoso Gantt Mann Kushner has played with numerous drummers over the years. He fondly recalled his time sharing the stage with Zack.
"He was a force of nature, a 220-volt man in a 110-volt world," Kushner said. "He made me feel like a better musician just for the fact that he was willing to play in my band!
"My favorite short Zack story: When playing bars in those days, I often had to make announcements — lady's night, football night, warnings about where the cops were lurking, watching for drunk drivers. We had a break song we played — 'Hold It' by Bill Doggett was a favorite. One night I started the break song, and once the groove settled in, I began making the announcements. Suddenly, I noticed that Mike was on the dance floor, not behind the drums! He had a cymbal on his finger, was playing it with a stick in the other hand, dancing and grinning. The magical groove had never changed. All he needed was a cymbal, a stick and that insane energy he always had. Magical."
Zack continued playing up until about 2006. A car accident in 1989 slowed him down but didn't end his career. But arthritis in his hands would make it all but impossible for him to hold his drum sticks. Late last year he was diagnosed with pancreatic cancer which spread to his liver. After beginning chemotherapy several months ago, Zack made the decision to let his drums go.
"He has a friend who is a drum teacher," Rosie recalled, holding back tears. "He donated this drums to one of his students so someone else could learn how to play."
Rosie did get to see her best friend do what he loved so much one last time. A few months ago Zack picked up his drum sticks one last time to play for his niece and his 6-year-old grandniece.
"She picked up the sticks, and he was teaching her to play," Rosie remembered.
While the rest of the world will remember Mike Zack as a world class musician, Rosie will remember the softer side that few knew, like his homemade spaghetti sauce.
"He did love to cook; he was the cook of the house. Music was his life, but I kept him sane," she said tearfully.
"All I know is my heart is hurting and life is empty without him," she said.
As for Zack, in 1993 when being interviewed by Opsasnick for "Capitol Rock," he spoke of what fate held in store for him.
"The Lord can take me tomorrow, and I can say you gave me everything"
A celebration of life will be held on Sept. 15 at the Frederick Elks Lodge #684 from 1 p.m. to 6 p.m.