The loyal pit bull who stood guard over her owner after a Prince George's County fire finally has a home of her own. Now the woman who helped Precious find her happy ending is hoping her story changes the way some people look at her breed.
Precious made headlines last December for her act of devotion. The protective dog with big brown eyes guarded her owner after a fire broke out at their Landover Hills, Maryland, home.
But after the fire, Precious and her puppy, Molly, were sent to an animal shelter because of the county's ban on their breed. A placement with their owner's sister also ended soon after it began.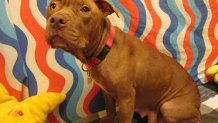 The family was able to re-home Molly, but Precious was left without a family. That's when Jessica Stuby and her organization, Babes 4 Bullies, stepped in to help.
Precious suffered from smoke inhalation as a result of the fire and also had fleas. So Stuby nursed her back to health before finding her a home.
"She did great," Stuby said. "We waited for her to be done with her meds."
Local
Washington, D.C., Maryland and Virginia local news, events and information
Precious was adopted in mid-February and is now enjoying life with her new family.
She quickly adjusted to her home, claiming a spot on the family couch with a dog who looks remarkably like her. Stuby shared a picture on Facebook of the new "brother and sister" snuggled together back in April.
"She's healthy and sweet and awesome," Stuby said.
But Stuby hopes Precious' story will help change the ban that took her from her original owner.
"She's a great little dog, which is why it's so ashame we have these bans," Stuby said. "I just can't imagine her being put down just because shes's pit bull."
Stuby says over 70 percent of the dogs she's helped since her group was created in 2010 had to be rehomed because of a county or building breed ban.
In Prince George's County, residents are not allowed to "own, keep or harbor a pit bull terrier," according to a county code. Illegal pit bulls can be impounded, and their owners can face fines of up to $1,000 or up to six months in prison.
Stuby says requiring owners to get liability insurance could be a good alternative to a ban.
"The problem is not usually the animal in the home. It's the people in the home," Stuby said.