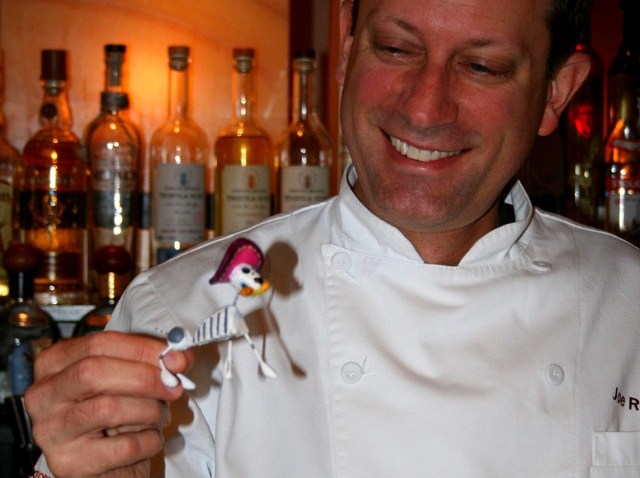 Jose Andres' Penn Quarter restaurant Oyamel (401 7th St. N.W.) is known for its colorful decorations, particularly its Oaxacan animal carvings, fanciful wooden pieces originally made by Dominican monks.
Head chef Joe Raffa said the staff was particularly excited for a recently commissioned piece: A two-foot-tall dog skeleton that would keep guard in a window display. But somewhere during correspondence with the artist, some wires got crossed. Raffa was surprised when the final piece arrived in a package sliiiightly smaller than anticipated.
"We opened the box so excited. We were like, 'My dog! My... dog?' It was only two inches tall."
Instead of having it remade to its original specifications, Raffa said Oyamel decided to keep the dog -- who got a new assignment. The carving isn't watching the door; instead, it now presides over a bottle of tequila, which dwarfs it three times over.
---
Let's Go Around Town: Keep up with what's happening in the D.C. area anytime, anywhere. Follow us on Twitter and Facebook. Sign up for our e-mail newsletters and find out What You're Doing Tonight with texts delivered right to your mobile phone -- just text DCTONIGHT to 622339 to sign up. (Message and data rates may apply.) Don't forget our iPhone app!