The results of one of the Metropolitan Police Department's many summer crime initiatives were not as impressive as D.C. police leadership suggested they were, a News4 I-Team investigation found.
"What we've seen in that space is that there is a 30% decrease with our focused patrol efforts," acting Police Chief Pamela Smith told the I-Team in late August.
According to an I-Team analysis of documents provided after Smith's statement, total crime rose in areas D.C. police included in its Focused Patrol and Community Engagement Strategy by 15.5%. Violent crime dropped by 3.5% from May 1 to August 22.
Both are lower than crime increases citywide, but nowhere near the suggested 30% drop.
We're making it easier for you to find stories that matter with our new newsletter — The 4Front. Sign up here and get news that is important for you to your inbox.
Focused Patrol was announced by D.C. Mayor Muriel Bowser, then-Chief Robert Contee and the department's command staff on April 27, the same day Contee announced his retirement. According to a press release from Bowser's office, the plan would:
"Utilize data to identify specific areas in each police district and employ focused patrols for proactive policing, community engagement, and problem solving within a small geographical area. The MPD members assigned to these areas will proactively engage in business and building checks, assist in traffic enforcement, collaborate with the community, and identify area-specific issues with police officials to problem solve and determine necessary solutions to community concerns and crime."
Local
Washington, D.C., Maryland and Virginia local news, events and information
According to MPD documents, the department picked four zones in each police district. D.C. police would not share maps of the areas or say exactly where they were.
In D.C.'s Second Police District, which includes part of Chinatown, Advisory Neighborhood Commissioner Michael Shankle hears from neighbors concerned about crime "all the time. I probably have several calls a week." Since Focused Patrol was announced, he said he has seen officers frequently parked under the neighborhood's iconic arch for hours, many days of the week. It is the same block where Shankle easily identified crimes committed in recent months. He pointed out where a shooting took place, robberies at a nearby store and drug dealing near the Metro station.
"We need some focused attention here," Shankle said.
The I-Team looked specifically at crime in the Second District during the time D.C. police records show they were using the Focused Patrol strategy there. In Focused Patrol zones in the Second District, violent crime increased by 78% compared to the same time in 2022. Total crime — the sum of violent and property crimes — rose by 28% in the Focused Patrol zones.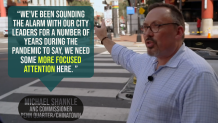 While officers were in the neighborhood frequently, Shankle said, when the I-Team asked more specifically about the engagement he was seeing, Shankle was less optimistic.
"I don't think that is happening," he said. "I don't believe we've noticed an officer out over there (talking with people and business owners) at this point."
It is one of the pivotal factors needed for success, said Will Pelfrey, a criminologist at Virginia Commonwealth University.
"Any community engagement initiative is predicated on engagement, the police have to be involved with the community," he said. "They have to knock on doors; they have to talk to people as they walk by."
Community policing programs like Focused Patrol have been around since the 1970s and can be effective in shaping public perception but don't always have large impacts dropping crime, Pelfrey said. Departments need to monitor or track officer engagement with the community to know if it's working, he said.
"As long as police are engaged with the public, then they can start to see positive impacts," Pelfrey said.
The I-Team asked D.C. police if any sort of tracking was done. A week after first asking the MPD Press Office, it has not responded.
It is one of many questions the department has not answered, including how the chief's announced a 30% drop in crime that was not supported by the department's own data.
The I-Team tried for three weeks to get clarification on the discrepancy. Despite numerous calls and emails to the department's press office, little explanation has been provided aside from a suggestion the chief was talking about another crime plan – the department's Robbery Suppression initiative. The I-Team asked for statistics on that program more than a week ago to verify the claim. No statistics were provided.
When the I-Team pushed about the decrease, Smith mentioned Focused Patrol by name twice and stood by the stat even after given a chance to specifically limit it to robbery.
Smith noted she plans to roll Focused Patrol out citywide.
Pelfrey told the I-Team it could take time to see how effective the program really is.
"To determine whether a program like this, a focused engagement program, really works, you need several years' worth of data," he said.
Shankle said he is "concerned about" whether MPD has resources to expand the program as they're currently facing staffing shortages.
Since Focused Patrol was announced, MPD has started a Robbery Suppression program, enhanced youth curfew enforcement, increased traffic enforcement and, according to Smith, held seven community walks by District commanders across the city every week.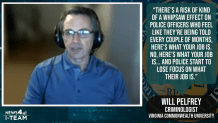 "There's a risk of kind of a whipsaw effect on police officers, who feel like they're being told every couple of months, 'Here's what your job is; no, here's what your job is; no, here's what your job is,'" Pelfrey told the I-Team. "And police start to lose focus on what their job is. It can also influence community perception of police. If you go to a neighborhood and say, 'We're really here for you; we're going to put police officers in this community because we value you and your neighborhood,' and then a few months later, those officers are gone, the residents are going to start to wonder how serious the investment of the agency is in their neighborhood."
Reported by Ted Oberg, produced by Rick Yarborough, and shot and edited by Jeff Piper.