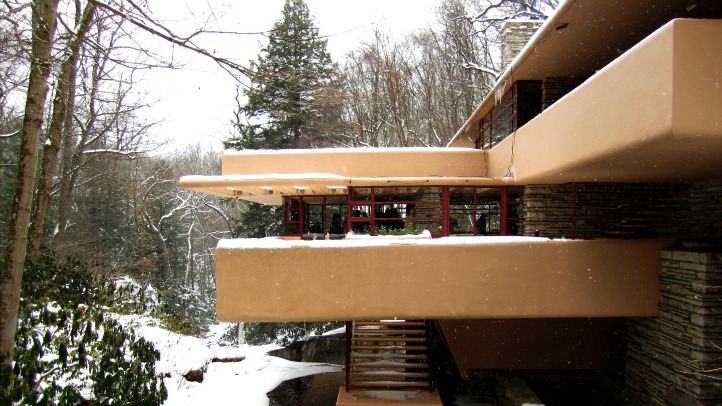 Located about 200 miles west of D.C, Fallingwater is well-known as an architectural masterpiece via Frank Lloyd Wright. The home in a rural Pennsylvania town sits atop Bear Run Stream in the hills of the Laurel Highlands.

Visitors can witness the fusion of art and nature into a cohesive living environment. The stunning views are a good reason why more than six million visitors have flocked here since it opened to the public in 1964.

The structure, which turns 75 this year, was constructed of sandstone by local craftsmen under the strict design concept of Wright. Notable design elements include strong horizontal and vertical lines, creating a clean and calm ambiance.
The master terrace seems to float over Bear Run stream, while the sound of trickling water permeates the entire house just enough to make you notice.

Fallingwater is the only piece of architecture designed by Wright that has been given over to the public. The home remains the same as it ever was, with original furnishings and artwork intact.

During the winter, Fallingwater (1491 Mill Run Road, Mill Run, Penn.) is open Fridays, Saturdays and Sundays (weather permitting) from 11:30a.m. to 3 p.m. Call in advance (724-329-8501) for detailed trip info.

Tickets for adults are $20; kids are $14. Sunset tours are $110, and you can also opt for brunch ($115).