The snow is gone, but the wet slush it left behind could refreeze, creating dangerous conditions on roads tonight and Wednesday morning.
A tanker overturned at the intersection of Fairfax Boulevard and Chain Bridge Road late Tuesday night. Slick roads were reported in the area.
Maryland-National Capital Park Police reported the bridge over I-495 on University Blvd was a sheet of ice. Multiple cars almost spun out, police said.
Public schools in Culpeper, Fauquier, Prince William, Page and Spotsylvania counties have declared Wednesday a snow day in anticipation of slick roads. Alexandria City, Fairfax County, Falls Church, Fredericksburg, Prince George's County, Loudoun County and Stafford County public schools will open two hours late. Go here to see a full list of school closures.
Early afternoon looked like evening rush hour throughout the D.C. area Tuesday due to schools and federal offices closing hours early. NBC4 and Telemundo 44 saw bumper-to-bumper traffic.
Storm Team4 expected a coating to 2 inches in D.C. and 1 to 4 inches to the north and west. Areas farther south and east saw just a coating.
Front Royal received 3 inches, and the snowfall there was finished by mid-afternoon.
All federal offices in the D.C. area closed at 1 p.m. The Office of Personnel Management website said employees should leave four hours earlier than their normal departure time and could request unscheduled leave to depart earlier.
Weather
Latest weather forecast, live radar and weather maps for Washington, D.C., Maryland and Virginia
All of the Smithsonian's D.C.-area museums closed at 3 p.m. Tuesday. The National Zoo closed at 1 p.m.
As snow fell, Virginia State Police responded shortly before 1 p.m. to John Marshall Highway (Route 55) between Sage and Carrington roads to a deadly crash involving a van and a school bus.
Police say the van was going eastbound when it crossed over and collided with the school bus that was going westbound. A 48-year-old man riding in the van died at the scene. The 71-year-old man driving the van was flown to a hospital with life-threatening injuries.
No children were on the school bus, but the 59-year-old woman driving it and a 68-year-old woman riding on the bus suffered minor injuries.
A dump truck crashed into a gas station in Fairmount Heights, Maryland, about 4:15 p.m. Tuesday. Medics took one person to a hospital and another person drove to a hospital for evaluation.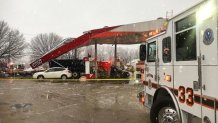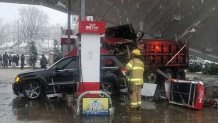 A large tree fell down along Beach Drive in Northwest D.C. and U.S. Park Police said a mile-long stretch between Grove 10 to Joyce Road is closed. The tree won't be removed until Wednesday due to weather so the closure could impact morning traffic.
Factors Affecting the Impact of Tuesday's Snow
As is often the case, there are several complicating factors.
The first was temperature: How long it takes to transition to all snow could seriously limit snow totals.
The second was that this event started in the middle of the day, which will help to keep most paved (and treated) surfaces wet, not icy, for several hours after the change to snow.
The third factor: This was a short-lived event, with only about eight hours or so between the first drops arriving and the last flakes falling.
Future Outlook: Refreeze Possible Overnight; Above Freezing the Rest of the Week
The snow/rain has mostly ended, but temps could fall below freezing overnight, which could spell trouble for Wednesday morning.
The good news is that Wednesday will be partly sunny, with afternoon highs in the 40s. But it will be windy. Temps above freezing will help to limit any travel troubles later in the day.
Thursday will be sunny and cold with highs in the 30s. Warmer air returns Friday, with highs in the 50s. The weekend will be super mild, with highs way into the 60s, and showers possible both days.
We will keep close watch on this winter weather, so stay with StormTeam4 and NBC Washington for frequent updates.