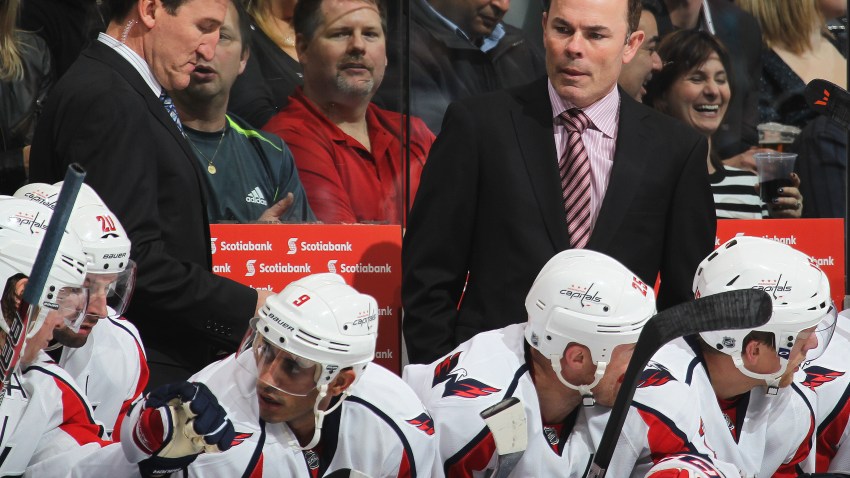 Let's face facts: The Washington Capitals, despite what they may believe, are not playing good hockey right now. A league-worst 2-7-1 record entering play Wednesday attests to that. Sure, they have been snakebitten, but compounding mistakes and a lack of 60-minute efforts have them looking up at the rest of the NHL - much to their chagrin and confusion - and searching for answers.
Sunday, the presence of Vancouver Canucks general manager Mike Gillis and assistant general manager Laurence Gilman caused a stir when they attended the Capitals' game against the Pittsburgh Penguins at Verizon Center. From what I was told last weekend, there have been no conversations between Vancouver and Washington - at least in regards to goaltender Roberto Luongo - but ESPN's Pierre LeBrun reported Wednesday that general manager George McPhee is "working the phones" looking for some sort of help, particularly a forward who could help bolster a middling offense that is 24th in the NHL with 2.3 goals per game. (The Capitals are also the only team in the NHL that has yet to score more than three goals in a game).
Here's the problem: McPhee can peruse his phone tree for a potential trade partner, but the Capitals do not have much to offer. It's sort of a Catch-22: Washington certainly has players that would likely garner a worthwhile return, but those players are either too important to the Capitals or have long-term contracts and/or large salary cap hits that would keep other general managers away, such as your Mike Greens or John Carlsons (though the latter's struggles this season don't help either). On the other hand, the players that don't fit the aforementioned description - particularly in regards to the salary issue - don't have enough trade value. Therein lies the rub.
That being said, what players could McPhee dangle in front of other GMs to receive the help that the Capitals sorely need? The pickings are slim.
Marcus Johansson
Johansson has been shuffled up and down head coach Adam Oates' lineup all season long, from starting on the first line with Alex Ovechkin and Nicklas Backstrom to being demoted to the fourth line and even watching from the press box. The 22-year-old forward scored his first goal of the season Tuesday in Washington's 3-2 loss to the Toronto Maple Leafs, but he only has four total shots this year, which is the fewest among the Capitals' regular players (healthy scratch Roman Hamrlik has two and injured Jack Hillen has zero).
He only wins 50 percent of his faceoffs and he can be a little timid when it comes to taking contact or shooting the puck (more fancy stats that I don't understand can be found here), but Johansson's speed is his greatest asset and perhaps some team in need of forward depth could take him on as some sort of reclamation project.
Mathieu Perreault
Remember when Perreault re-signed with Washington this past summer and said that the team saw him as a key cog of the top six? He's certainly not getting that as a healthy scratch, which is what he has been for half of the Capitals' games this season. Not exactly what he had in mind...
Perreault is never going to get those kinds of minutes with Backstrom and Mike Ribeiro in front of him and Oates has admitted as much, but when Backstrom was out with a concussion last season, Perreault did prove that he could hang up top with a few spirited performances.
The 25-year-old has made it known that he is not pleased with his ice time, but another club might want a sparkplug like Perreault that they can insert into their lineup. It's more or less the same situation as Johansson. You can tell that I'm reaching.
Jason Chimera
The Capitals would have been better served to trade Chimera last season while he was in the midst of a career year, scoring 20 goals and earning 39 points, but that ship may have sailed now that he is just one of four Washington forwards yet to score.
Yet, what the 33-year-old Chimera does offer is blistering speed, leadership and a tenacity that is arguably unmatched by the rest of the Capitals roster. He may not the best talented player offensively, but Chimera makes up for that with effort. Also, Chimera is cheap, which certainly never hurts; he has one year and a $1.75 million cap hit remaining on his current contract.
Dmitry Orlov
The young defenseman has yet to show up in Washington after suffering an "upper-body" injury while playing with AHL Hershey during the NHL lockout. Last season, Orlov made a seamless transition into the Capitals' lineup, ultimately playing in 60 regular-season games before being benched for the entire postseason for some reason by former head coach Dale Hunter.
Orlov may be Washington's most complete defenseman. He packs a howitzer and certainly has offensive skill, but he is also not afraid to take the body and battle in the corners. Realistically, the Capitals are not going to trade Green, Carlson or Karl Alzner, and Hamrlik, Jeff Schultz, John Erskine and Tom Poti have no value whatsoever, so Orlov may be the only big-league defenseman that would coax another team to listen to what McPhee has to say.
Evgeny Kuznetsov, Filip Forsberg and Tom Wilson
The prospect pool currently in Washington's minor-league system is shallow, but the future looks bright with Kuznetsov (if he ever decides to come over from Russia), Forsberg and Wilson, who were Washington's first-round draft picks last summer.
McPhee is high on all three prospects and they represent the future of the organization, so this bullet is more of a disclaimer that these three are too precious to deal.
Mike Ribeiro
This is the most interesting - and quite frankly, the most logical - situation of the bunch. Ribeiro has been the Capitals' only consistent player offensively this season, having earned 11 points in 10 games, including three of their eight power play goals. He has softened the impact that Nicklas Backstrom's rough start (by his standards, at least) has had on the team by giving them another premier playmaker, something that has been lacking around here for years.
So why would the Capitals even consider trading him? Because he would bring the most value back. Teams are never not looking for top-tier playmakers - especially Stanley Cup contenders who need a rental to help make a push for a championship - so if the Capitals continue to plummet in the standings and the season becomes a lost cause, they could flip their one-year investment in Ribeiro into a nice package of solid players that could help more in the long run. If Ribeiro isn't going to be given the chance to help Washington compete for a Stanley Cup, perhaps he could help them in the trade market.
---
Follow Adam on Twitter @AdamVingan and e-mail your story ideas to adamvingan (at) gmail.com.