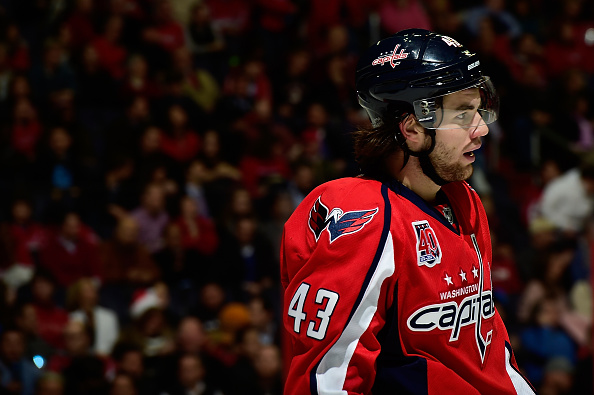 Washington Capitals forward Tom Wilson glided toward the goalmouth midway through the second period Thursday, adhering to the net-front directive of the coaching staff. There he met Columbus Blue Jackets defenseman James Wisniewski, who proceeded to snap his stick across Wilson's face, the left side of which still felt sore the next morning.
That lingering discomfort stung a little less knowing that it gave the Capitals an opportunity to win. Wilson resisted the urge to retaliate and drew two penalties on the play as a result, handing Washington's second-ranked power play four minutes with the score tied 1-1.
"Last night, he knew we were running into a goaltender that was keeping them in the game and he knew that our power play's been pretty good all year, that that would give us an advantage," coach Barry Trotz said of the Capitals' 3-2 overtime loss. "He was thinking about the team over himself. Trust me, I tell him, 'Just take a number and there will be a time and a place where you can say, 'OK remember when you got me there? Let's settle a score here.'
"I think he understands that role and he gave us a chance to win a hockey game. That's being a very good teammate, understanding the moment, understanding the situation and to me, that's a young player who gets it."
Wilson's ability to agitate opposing skaters has been an asset this season. Excluding coincidental minors (of which there have been a few), Wilson has drawn 1.8 penalties per 60 minutes this season, a figure that leads the Capitals and ranks 10th among NHL forwards with at least 10 games played.
In the Capitals' past two games, Wilson has accounted for 8:30 of their 12:36 of total power-play time. Trotz attributed that to Wilson's willingness to, among other things, venture into the harshest on-ice environments.
"You've got to be smart about it," WIlson said Friday. "You've got to be mature and be professional because it can really change a game. A power play can win you games, it can lose you games so you've always got to be conscious of that and you always want to put our team up a man because we're so good on the power play so it's definitely a conscious thought."
Knowing when to prod an opponent has been an ongoing topic of discussion as it relates to Wilson, who had little choice but to fight during his rookie season while affixed to the fourth line. His five fights this season still lead the team, but playing with Alex Ovechkin and Nicklas Backstrom carries a heightened level of responsibiity, including not putting Washington at a disadvantage.
"Trust me, he's not not retaliating because he's scared to," Trotz said. "He's doing the right thing at the right time. That's showing a lot of maturity and being a great team guy. That's how teams win, when people are not selfish."
As Wilson skates or is escorted away from post-whistle scrums that he is often at the center of, a wry smile usually creeps across his face, probably more than enough to further ruffle his particular adversary. Within that grin, he communicates that he is capable of personally inflicting punishment, but would rather his teammates do so instead.
"You see me smiling, it's just kind of letting them know like they got the better hand on the cheap shot, but hopefully our power play's going to put one in," Wilson said. "There's no worse feeling, you can get punched in the face 10 times, but if you're sitting in the box and the other team scores a goal, you ask most guys, that's one of the worst feelings in hockey."
---
Follow Adam on Twitter @AdamVingan and e-mail your story ideas to adamvingan (at) gmail.com.