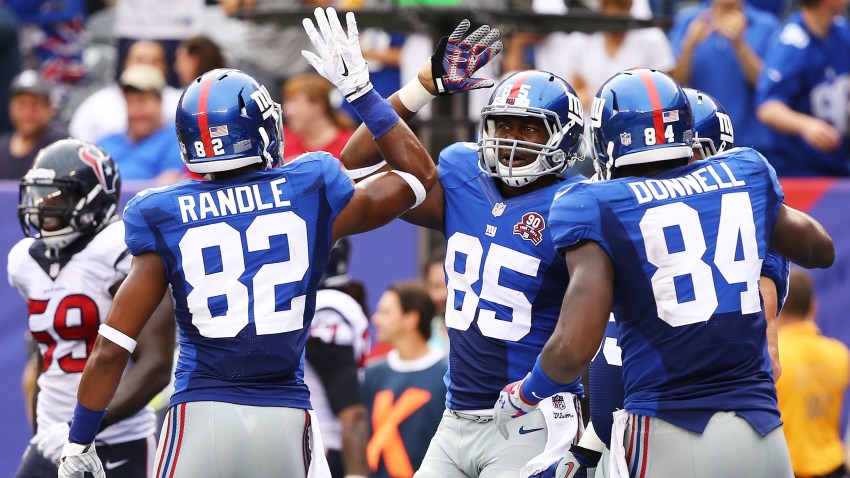 Welcome back to the second season of "The 'Skinny," a weekly preview of the local professional football team's upcoming game and opponent. Every Thursday, you can find any and all information* about the Redskins' next opponent in this space.
(*Sometimes, it may be some or most information. And this week, it is Wednesday because the game is Thursday.)
Week 4 Opponent: New York Giants (1-2)
Game Information: Thurs., Sept. 25 -- FedEx Field -- 8:25 p.m. -- CBS
Last Week: A contentious division game between the Redskins and Eagles ended in a 37-34 victory for Philadelphia. The Giants, meanwhile, earned their first win of the season in a 30-17 victory against the Texans.
What's The Skinny?
The Redskins are truly the walking wounded entering their game against the Giants. Seventeen players were listed on the injury report during a Monday walkthrough. DeAngelo Hall (ruptured left Achilles) and Duke Ihenacho (broken left foot) are out for the season, while Brian Orakpo (finger) expects to play with a hard cast and Jason Hatcher (hamstring) is questionable.
"Obviously this is a week that I would rather not have a Thursday night game," coach Jay Gruden told reporters.
New York is cognizant of Washington's injury woes on defense and how it will affect the latter's game plan, particularly the loss of Hall.
"I think it's going to change a lot," Giants receiver Victor Cruz told reporters. "I think he was such a stable guy that they revolved that style of defense around him being a ball hawk. I think losing him is a big blow."
Whatever is left of the Redskins' defense will have to harass Giants quarterback Eli Manning, who has historically struggled against Washington. He has thrown 16 touchdowns and 17 interceptions against the Redskins in his career.
Statistic Of The Week: Dating back to last season, the Redskins have lost seven straight games against NFC East rivals. Not since Week 17 of 2012 -- when the Redskins clinched the division title against the Cowboys -- have they won such a game. The Giants have won six of their last eight games at FedEx Field.
What They're Saying
"We're losing guys left and right. Football's a tough game. Look, if you've got kids and can't stand injuries, don't let 'em play football."
- Orakpo on Washington's injury concerns
---
Follow Adam on Twitter @AdamVingan and e-mail your story ideas to adamvingan (at) gmail.com.