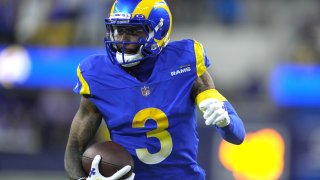 Odell Beckham Jr. officially has more passing yards than Kyler Murray -- for now.
The Los Angeles Rams wide receiver caught a pass from Matt Stafford behind the line of scrimmage and then threw one of his own, hitting running back Cam Akers down the sideline for a 40-yard completion.
The pass from the wide receiver helped set the Rams for a 7-yard score to Cooper Kupp, extending the lead to 28-0 over the Arizona Cardinals.
At the time of the successful trick play, Murray had managed just 28 passing yards on 17 attempts for the Cardinals.