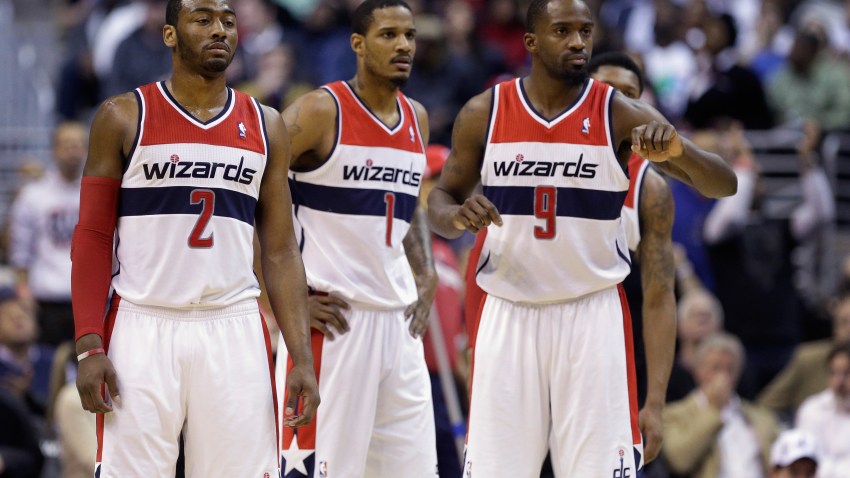 Washington Wizards broadcaster Steve Buckhantz hasn't had many opportunities to exclaim his signature "DAGGER!" call this season, so forgive him for being quick on the trigger (handle?) at the end of Wednesday's game against the Detroit Pistons.
Allow me to set the scene: the Wizards trailed by as many as 16 against the Pistons, but cut the lead to 96-95 on Trevor Ariza's two free throws with 12 seconds left. Washington received the ball back because Will Bynum had committed a "clear path" foul on Ariza, which set up the possession seen below
After some sloppy ballhandling, Ariza found himself in the corner for a last-second three and his shot hit nothing but net. Problem was, Ariza's shot hit nothing but the outside of the net. It was an airball.
Buckhantz, however, did not realize that at first and unleashed the "DAGGER!" as the Pistons celebrated and the Wizards dejectedly trudged towards the locker room. The whole thing made for an awkward scene (though, to be fair, the Pistons broadcast team thought the exact same thing).
"The 'Dagger' has been retracted," Buckhantz said.
The loss snapped Washington's three-game winning streak.
---
Follow Adam on Twitter @AdamVingan and e-mail your story ideas to adamvingan (at) gmail.com.