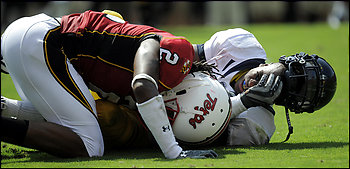 Ashburn, Va. -- The Washington Redskins have selected Maryland's Kevin Barnes in the third round of the NFL draft.
The hard-hitting, 6-foot-1, 188-pound cornerback was taken Sunday with the No. 80 overall pick in the draft. He had four interceptions as a junior and two as a senior before missing the last six games of the season with a shoulder injury.
In a conference call with reporters, Barnes said he was surprised the Redskins grabbed him with their first pick of the second day of the draft, the Washington Post's Redskins Insider reported.
"I was pretty much speechless," Barnes said. "I really wasn't expecting them to pick me. I hadn't really talked to them too much in the process."
Barnes is perhaps best known for a big hit that became a YouTube sensation. He leveled California's Jahvid Best in a game early last season, leaving Best on the ground several minutes before the running back vomited.
"He's a slim, fast kid," one scout told the Redskins Insider. Or, as Barnes put it on the call: "I feel like I can compete with anybody. I'm a big corner, but I also move like a smaller guy."
The Redskins opened their draft Saturday by taking defensive end Brian Orakpo of Texas with the No. 13 overall pick.

Copyright AP - Associated Press