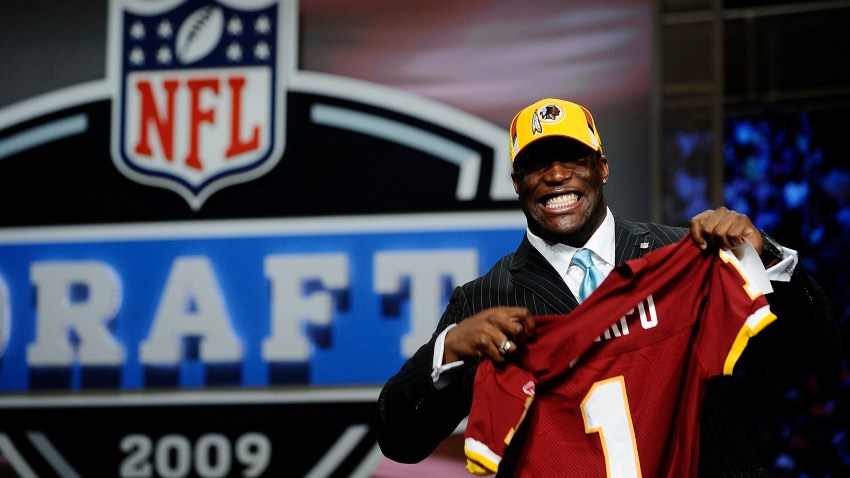 After all the talk about Mark Sanchez, the Redskins decided to stay put in the first round of the NFL Draft and select Texas defensive end Brian Orakpo.
The Skins took just a few seconds of their 10 minutes of alloted time to send their pick to the commissioner and take Orakpo with the No. 13 pick of the draft.
Orakpo is a strong pass rusher and should fill the role that the Redskins hoped Jason Taylor would when they acquired him. That obviously didn't work out, but they hope Orakpo does.
The 6-foot-3, 265-pound senior won the Lombardi, Hendricks and Nagurski awards after an outstanding final season in which he recorded 42 tackles, 19 tackles for loss, 11.5 sacks and four forced fumbles. But all of those stats will mean nothing come training camp, when he has to prove he belongs in the NFL.
The Redskins have made great strides in the offseason in an attempt to get more pressure on the opposing quarterback. The team recorded just 24 sacks last season, good for last in the NFC. With Orakpo and the signing of free agent Albert Haynesworth, the Skins are well on their way to eclipse that in '09.
Oh, and about that Sanchez kid? The New York Jets traded with Cleveland to slide up to the No. 5 spot to draft the USC quarterback.
Once Sanchez was off the board, it was clear who the Redskins were going to pick when their turn came in the first round.
Check out Orakpo's college highlights by clicking here.
Skins Stay Close to Home in 3rd Round
The Redskins went for some home cooking in the third round of the draft, selecting Terrapin defensive back Kevin Barnes.
Barnes, a 6-1, 188-pound Glen Burnie, Md., native, is a punishing hitter.
Need proof? He's the one who hit a Cal receiver so hard last year he made him puke. Seriously. Watch the replay.
Unfortunately, Barnes suffered a season-ending shoulder injury in October. His fractured shoulder blade required surgery, knocking him down on most draft boards.