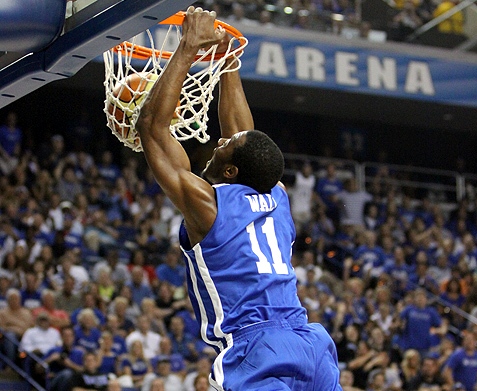 As we predicted, John Wall was definitely more evenly matched in Monday's Pros vs. Dominicans game in Kentucky.

Wall, on a team full of former Kentucky standouts and current NBA pros, put up 15 points, 3 rebounds and 2 assists. Respectable by most standards, but far from the numbers he's been producing this off season in various summer leagues.

For Wall, it wasn't about the numbers as much as it was a trip down Kentucky memory lane.

"It was great," Wall told the Courier-Journal. "It just felt like a regular game, like we were back playing here a couple years ago."

It's been rumored that Wall is considering enrolling in some classes at Kentucky in the fall to fill some time during the lockout. If he does, Wizards fans are going to have to work extra hard to prove their love. It seems that Wall is quite smitten with the fan base at his alma mater.

"Kentucky fans are totally different. I think they're the best fans in the world," he said. "College basketball, NBA, it doesn't matter. They're the best fans. They still show support even though we're gone from here. We wanted to come back. This fan base is totally different than any I've been around."

To be fair, the Wizards have been a bit hard to root for lately. If Wall wants a stupidly loyal fanbase, he should join the Redskins.

While Wall's numbers on Monday were pretty average, this alley oop brought the house down.

Questions, comments or tips? Email Sarah at sarahskogod@gmail.com. You can also follow her on Twitter (@sarahschorno).