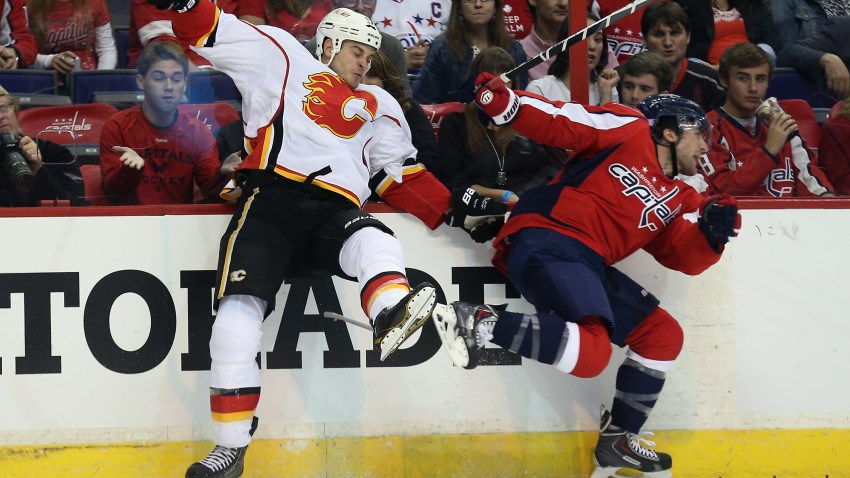 Washington Capitals defenseman Jack Hillen addressed the media on Monday for the first time since fracturing his right tibial plateau in a routine collision during the team's home opener on Oct. 3 against the Calgary Flames.
Entering the locker room on crutches, Hillen was in good spirits, but obviously frustrated that his season was cut short so early for the second straight year. (He suffered broken ribs in the Capitals' season opener against the Tampa Bay Lightning last season, forcing him to miss 25 games.)
"I can't tell you how bummed I was when [the doctor] told me," Hillen said. "As soon as I got hit [by Flames forward Lance Bouma], I felt something pop and I just didn't know what it was. And when [the doctor] told me it was my knee, I never heard of someone breaking their knee. Mentally, it was tough. I'm still mentally a little frustrated and I'm just starting now to turn a corner and feel a little bit better with it. It's still going to be a while.
"Two years in a row for this to happen, it's tough. It really is."
Hillen underwent surgery on Oct. 5. Doctors had to put the bone, which suffered a clean break, back together and insert a plate and five screws to hold everything in place. He was told that he could not put any weight on his leg for three months.
"They want to be safe because if the knee moves or something doesn't heal right, it can be a lot of long-term damage to it," Hillen said. "I wish it were lower on the leg and not the knee because then you can start [to] do some other stuff, but you don't want the plates and the screws to move and other things. It's tough. It's really just like a waiting game. I'm trying to do as much as I can so my muscle doesn't just atrophy completely."
The 27-year-old's personal injury list is extensive. Besides the aforementioned injuries, he also suffered a broken jaw when he was on the receiving end of an Alex Ovechkin slap shot midway through the 2009-10 season while a member of the New York Islanders, not to mention a concussion the following season.
"I've had lots of injuries in my career," Hillen said. "I sat a week after [the most recent injury] and I was talking to my wife about it. I'm like, 'I don't know what I can do differently to avoid them.' I mean, I got hit in the face by an Ovechkin slap shot when I wasn't even in front of the net, so I missed time there. I had a concussion and then last year with the broken ribs and this year with the broken knee.
"What can you do? I have a broken jaw, broken ribs and broken knee. I drank lots of milk as a kid, I swear. What can you do about it? I mean they're freak injuries. Maybe I need to sacrifice a live chicken or something. I've got to try to find a way to stay positive. And that's been the biggest challenge."

There is no timetable on a potential return to the lineup, but Hillen is hopeful that he will be ready at some point this season to contribute if called upon.
"I'm hoping I'm ready to go this year," Hillen said. "Whenever I get back, a lot of things can happen and change. You never know if guys are playing well. I don't want to mess up the rhythm of the team, but if they need me, I'm trying to be available for them. If they want to use me, that's their call. ... My goal is to be back before the end of the year and be available if they need me."
---
Follow Adam on Twitter @AdamVingan and e-mail your story ideas to adamvingan (at) gmail.com.