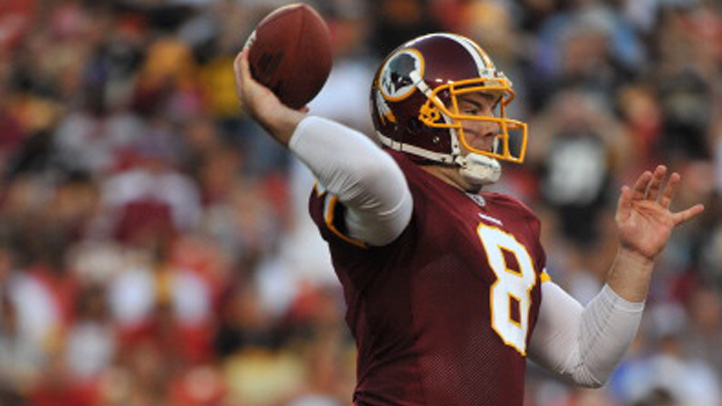 Rex Grossman's opening statement in his case to become the Washington Redskins' starting quarterback was an 89-yard drive that didn't produce a point. He made up for it, sort of, with an 82-yard drive for a touchdown against a second-string defense.

Hoping to gain an early edge over an injured John Beck, Grossman completed 19 of 26 passes for 207 yards Friday night to help the Redskins beat the Pittsburgh Steelers 16-7 in the preseason opener for both teams.

While the proceedings were ho-hum August routine for a stable Steelers team coming off a Super Bowl appearance, the ever-changing Redskins put more stock than usual in the first preseason game. Washington coach Mike Shanahan had his starters play the entire first half -- hardly the norm for the opener -- as he sought to gauge his team's fitness and knowledge of the play book following the NFL lockout.

The result was that the Redskins' starters were facing the Steelers' backups for part of the first quarter and all of the second. The 1s-vs.-2s fought to a draw, with Grossman hitting Santana Moss for an 8-yard score against Pittsburgh's backups and second-unit running back Isaac Redman spinning his way through Washington's starting defense for a 22-yard touchdown to tie it 7 at halftime.

Coming off a third straight last-place finish in the NFC East, the Redskins overhauled the roster in the compressed free agency period and are trying to sort out starters at several key positions. Top of the list is quarterback, although Round 1 of Rex-vs.-Becks suffered from a no-show because Beck tweaked his groin in practice last week and sat out the game.

Grossman completed his first five passes on Washington's opening drive, but the offense ground to a halt after he had to burn a timeout with the ball at Pittsburgh's 10. Shayne Graham, hoping to push Graham Gano for the kicking job, then shanked a 29-yard field goal attempt wide left. Graham also missed wide right from 49 yards at the end of the first half, while Gano hit from 32, 34 and 45 yards in the second half -- with the 45-yarder clanging off the left upright.

Grossman found Terrence Austin for a 38-yard gain to help set up the touchdown pass to Moss in the second quarter. Moss was wide open, having eluded backup safety Ryan Mundy.

Ben Roethlisberger played only one series, completing 2 of 3 passes for 22 yards, and Pittsburgh's other starters were done for the game by the end of the first quarter. With their starting lineup pretty much set, the Steelers' main battles are for backup jobs and roster spots. Charlie Batch, trying to hold on the No. 3 quarterback job was 2 of 4 for 16 yards. Batch's competition, Dennis Dixon, was 1 for 10 for 29 yards.
Copyright AP - Associated Press