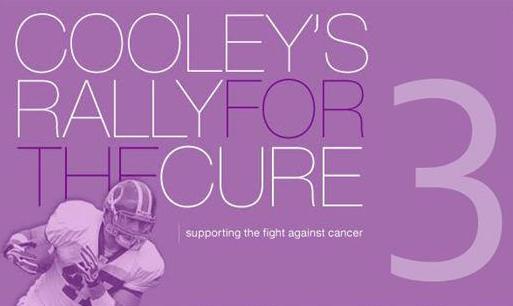 On the morning of May 16, 2008, Nancy Cooley, mother to Redskins tight end Chris Cooley, was waiting to hear from her doctor about a suspicious lump she had tested.
The call came while she was driving to work.

"They just said, 'It's bad and you need to get to a doctor," she told us.

It turned out that Nancy had Stage 3 ductal carcinoma, a very aggressive form of breast cancer, and she was told she needed to have a mastectomy and start chemotherapy treatments right away.

While it's never a good time to find out you have cancer, Nancy's diagnosis came at a particularly inconvenient time. Chris was getting married that week, so in between entertaining family and dealing with the flurry of activity that comes with being the mother of the groom, she met with various doctors and specialists so she could begin treatment immediately after the wedding.

Being a high school teacher, Nancy had good insurance. But the bills that were sent to the insurance company that first week were shocking to her.

"After the first week, my insurance was billed over $40,000 and I thought, 'Oh my God. What does someone do if they don't have insurance?'" she said.

The Monday following Chris's wedding, Nancy began the series of tests and surgeries that were necessary pre-cursors to treatment. That Friday, exactly a week after the wedding, she had her first chemotherapy treatment.

She had a strong system of people around her, and Chris had a particularly "Chris Cooley" way of showing his support.

"We had talked and he said, 'Whenever you want to, I'll shave your head,'" she laughed.

A few weeks after she began chemo, she decided it was time. So she and Chris headed down to his basement and he shaved her head.

After her treatment, Nancy began the long road to recovery. She's been cancer-free for three years, but in August of this year she had a scare. She was told her cancer may have come back.

After further testing and the removal of two lymph nodes, it was determined that she was fine. But the costs of the recovery were adding up.

"The [three year] costs billed to my insurance are over $300,000 now," she said. "I don't know what someone would do who couldn't pay that."

Nancy decided that she wanted to be able to help local women who couldn't afford the cost of treatment. She started Cooley's Rally For The Cure to help raise money for those who need it.
This year's event is on Monday, October 10, at Clyde's in Ashburn, Va. The $65 ticket includes food, beer and wine. There will also be player appearances, auctions and other surprises for those who attend.

This year, the money raised will go to The IIIB's Foundation and Reinsch Pierce Family Center for Breast Health at Virginia Hospital Center. Both are local organizations that Nancy feels were instrumental in her recovery.

Just as important as the fundraising, Nancy hopes the event will also raise some awareness for women who may not otherwise be paying attention.

"I was told by my doctor that the lump I had, most women would wait to have checked out," she said. "They said that if had waited six months, my situation would not have been good."

Tickets for the event can be purchased here. If you can't make it and want to donate, you can do that also.

Food, drink, prizes, a good cause, and Monday Night Football with Redskins players? Definitely worth the $65.
Questions, comments or tips? Email Sarah at sarahskogod@gmail.com. You can also follow her on Twitter (@sarahschorno).