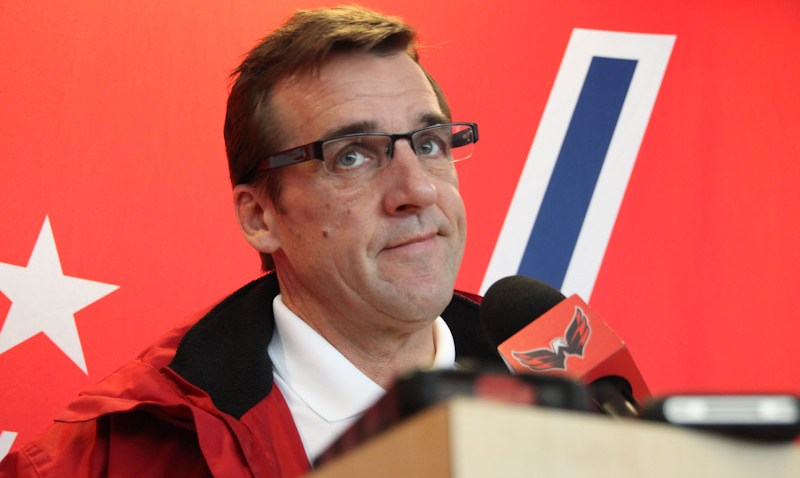 In the first six hours of free agency Friday, NHL teams spent over $350 million on over 50 signings, making it the richest opening day in four years. The Washington Capitals did not pick up any part of that extravagent tab, electing to sit out the initial free agency frenzy instead.
Four days since the market opened, the Capitals have made just four depth signings -- forward Matt Watkins, defensemen Tyson Strachan and David Kolomatis and goaltender David Leggio -- all of whom will likely only contribute at the AHL level with the Hershey Bears.
General manager George McPhee decreed that the Capitals, who have about $8.5 million in available salary cap space, would not be active in free agency and he stuck to his word, claiming that any holes in the organization will be filled from within, therefore avoiding the exorbitant price tags and term commitments that come with free agency.
"We didn't think it was a great class of [free agent] players," McPhee said Monday. "It wasn't a great pool of players to invest in, so we didn't. Our roster's pretty much full. . . . We don't anticipate doing much more, if anything."
Washington lost two major contributors from last season's Southeast Division-winning roster: Mike Ribeiro, the team's second-leading scorer, first-half MVP and most competent second-line center in four years, and Matt Hendricks, its tenacious grinder and locker room leader. Ribeiro signed a four-year contract with the Phoenix Coyotes after the Capitals were not willing to offer more than three years, while Hendricks left for the Nashville Predators on a four-year contract of his own.
According to McPhee, Ribeiro and Hendricks's respective fates were sealed during the trade deadline in early April when it became evident that he would not be able to provide either of them with the terms that they were looking for.
"We made our best offers at the trade deadline with both of our players," McPhee said. "We like both of those guys a lot as people and players, but we make our decisions around the trading deadline, far in advance of July 1 or July 5. You can't wake up on those days and say, 'What are we going to do?'
"We signed seven players in February and March and April and added another player in [Martin] Erat. We talked with Mike before the season started and we talked with Matt before the season started and we went at them hard and we knew then based on what they were asking it was probably not going to happen."
McPhee plans to replace Ribeiro with Brooks Laich, whose two-way game should complement head coach Adam Oates's system. As for Hendricks, the Capitals have an abundance of bottom-six forwards to choose from, including Aaron Volpatti, whose two-year contract extension in April essentially signaled the end of Hendricks's tenure in Washington, and prospects Tom Wilson and Michael Latta, who are both participating in this week's development camp at Kettler Capitals Iceplex.
The Capitals are a weaker team than they were last week before Ribeiro and Hendricks officially signed elsewhere and some might suggest that they would have been better off adding an impact free agent to mitigate the aforementioned losses, but as McPhee put it Monday, "you don't win the Cup in the summer."
"We've always analyzed it that we try to do what's best for the Washington Capitals," he added. "If a contract doesn't work for the Washington Capitals, then why do it? If you're consistently going to the free agent market every summer to build your team, then there's something wrong with your organization because that's not the way to develop a team.
"We went through the process and analyzed every player and said does this player fit in with us and at what price and everything else. You keep coming back and saying he's not better than what we have. Or he might be a touch better than what we have, but the guy we have is a good player at the right price. Why do that? We like our team. We're a solid NHL team."
---
Follow Adam on Twitter @AdamVingan and e-mail your story ideas to adamvingan (at) gmail.com.