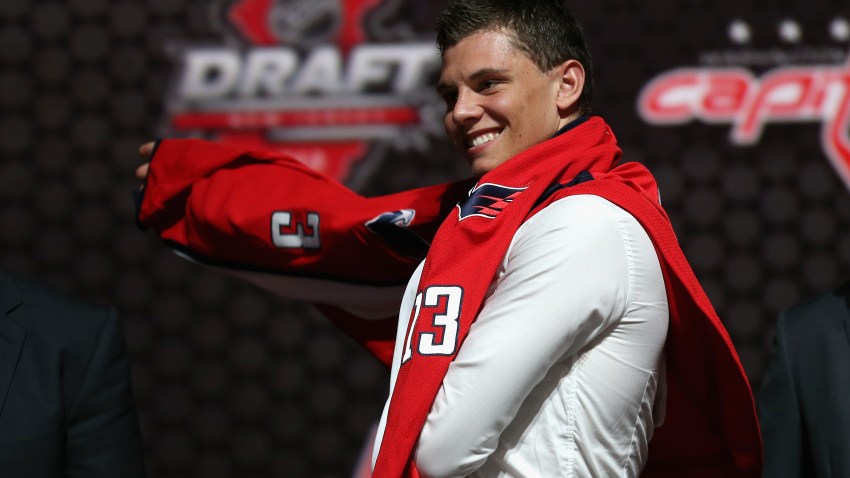 The Washington Capitals selected left winger Andre Burakovsky with the 23rd overall pick in the 2013 NHL Draft.
The Austrian-born Burakovsky scored four goals and earned 11 points in 43 games with the Malmo Redhawks of the second-tier HockeyAllsvenskan league. The Capitals have now drafted a Swedish-born player or a Swedish-league player with their first pick in five of the last eight drafts, joining Nicklas Backstrom (2006), Anton Gustafsson (2008), Marcus Johansson (2009) and Filip Forsberg (2012).
The 18-year-old was the sixth-ranked European skater according to NHL Central Scouting.
TSN analyst Craig Button with more on Burakovsky:
Andre is explosive and powerful. His skating is excellent and he has the ability to challenge defenders and put them on their heels. He is the type of player who makes defencemen nervous because he is not only fast but determined as well and he will not back down from the competitive areas and is very difficult to deter. Good puck skills and can make plays at high speed and he is capable of beating you with a drive to the net or with a pass given the opportunity. His natural scoring abilities may not be high but he gets chances and will produce offence because of the skating but perhaps not as much as some would expect with his skating ability. Overall, a player who will be able to find his way because he has multiple dimensions to his game.
Assets: Blessed with great speed, he also displays great hands and goal-scoring instincts. Also has an NHL-sized frame with with plenty of projection. Is definitely a game-breaking talent.

Flaws: Must prove capable of scoring at a quality pace at higher levels of competition. Also needs to add significant bulk in order to prove he can withstand the rigors of the North American pro game.

Career Potential: Talented scoring winger with upside.
In the second round, Washington selected defenseman Madison Bowey of the Western Hockey League's Kelowna Rockets, a team that has developed several NHL defensemen, including Nashville's Shea Weber, Chicago's Duncan Keith and Montreal's Josh Gorges. The 6'1", 195-pounder scored 12 goals and assisted on 18 others last season.
"The way he skates, the way he competes, the way he thinks, his confidence on the ice. He's not as rugged as [former Kelowna defensemen] Luke Schenn and Shea Weber, but he's every bit as competitive."

The Capitals then traded their third-, fourth- and one of their fifth-round picks to the Jets for their second-round pick, which they used to select left winger Zachary Sanford of the Middlesex Islanders of the Eastern Junior Hockey League. Sanford will attend Boston College in 2014.
Washington rounded out its 2013 draft class with fifth-round pick Blake Heinrich, a defenseman from Sioux City of the United States Hockey League, sixth-round pick Brian Pinho, a center from St. John's Prep in Massachusetts and seventh-round pick Tyler Lewington, a defenseman from Medicine Hat of the WHL.
All six draftees should attend the Capitals' annual Development Camp, which begins next Monday at Kettler Capitals Iceplex in Arlington.
---
Follow Adam on Twitter @AdamVingan and e-mail your story ideas to adamvingan (at) gmail.com.