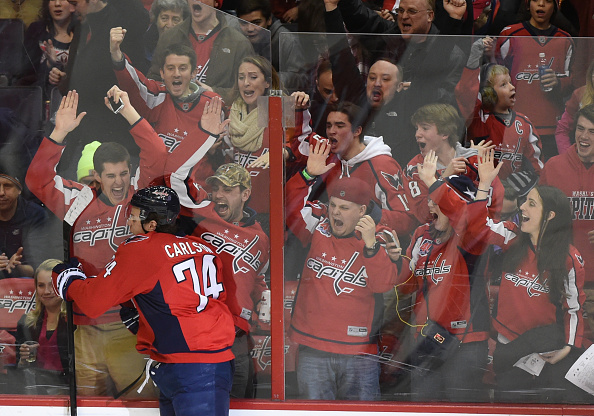 The question about to be asked of Washington Capitals defenseman John Carlson required some precautionary jinx-proofing, like knocking on his wooden locker.
"Maybe just don't ask it," Carlson joked.
Carlson is one of four Capitals defensemen -- Brooks Orpik, Matt Niskanen and Karl Alzner the others -- who have appeared in all 54 of Washington's games. Across the NHL, the Capitals and Nashville Predators lead the league in regards to defensemen having played in every game.
As in any professional sport, there is a tinge of luck involved. Carlson and Alzner, for instance, have played in every game since the start of the 2010-11 season.
"I've been bumped up and bruised along the way, but I've been able to push through it," Alzner said.
There is more to it than that, though, they say. It begins with off-ice preparation. The Capitals signed Orpik to a maligned five-year, $27.5 million contract last summer to provide a much-needed bruising presence and infuse the locker room with added leadership. Orpik is widely praised for his dedication to fitness, which his fellow defensemen have incorporated into their respective routines.
"I think everyone's pretty dedicated," Carlson said. "From top to bottom, everyone's dedicated in their own ways, everyone's different in how they prepare, how they get ready, how they take care of themselves. ... I think when Brooksie came here, he brought a lot of other things besides his play on the ice. His preparation is second to none, so I think that trickles down. People pick up on it and everybody wants to do the same things and get better and I think he's helped a lot with that off-ice stuff. He's one of the best. He's been doing it forever at preparing himself."
Another factor is how Washington is instructed to play by coach Barry Trotz, particularly in the defensive zone, where defensemen are most vulnerable. Trotz and assistant coach Todd Reirden have stressed constant communication and support, which allow the defensemen to quickly move the puck and avoid contact through what Trotz called "bump-and-absorb techniques."
"We have a pretty good plan," Trotz said. "There's teams that have specific plans, the way they play. Some teams rely on pure skill of the player to figure that out on their own as they go along. We're probably a little bit of a hybrid. We don't do the same thing all the time, but we have a plan for four or five different scenarios. Players have been very good at reacting at it. ... I think it saves the player from being surprised. You don't get as many big hits as some teams do."
So far this season, the Capitals have used eight defensemen, tied for the second-fewest in the NHL. By comparison, Washington had dressed nine defensemen through five games last season and 14 total, which led the league. That sort of stability has positively impacted the Capitals.
"If you can get those guys in the lineup every single night, then your team's going in the direction that it planned to go in," Alzner said. "We're extremely happy we've been able to play like that, build chemistry and feel the season out a little bit more as it goes along. When you sit out for five, 10 games, whatever, you kind of lose track of how things are going and a little bit of the feel for the team."

"It's always nice to see people play their first games and stuff like that and people come up and have an impact, but that's not really the goal for a team, I think," Carlson said. "You start with whoever you like the best and the more you can stick to that, the probably better off you are in the long run."
Fingers crossed.
---
Follow Adam on Twitter @AdamVingan and e-mail your story ideas to adamvingan (at) gmail.com.