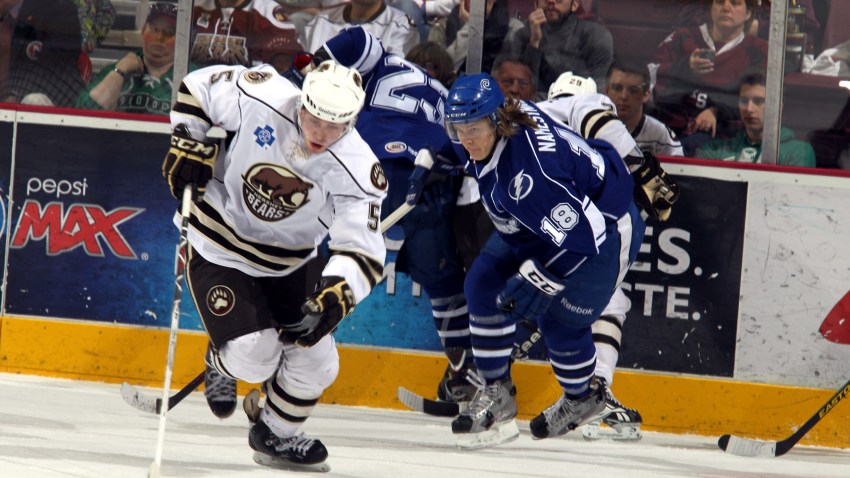 The Washington Capitals' back end is once again in a state of flux as the team recalled defenseman Nate Schmidt from the Hershey Bears of the American Hockey League.
Schmidt is expected to make his NHL debut Saturday against the Colorado Avalanche. He would be the fourth Capitals defenseman to make his League debut in the team's last 33 regular-season games dating back to last season.
"He's a good, heady player, skates well, moves the puck well and we need to get cleaner coming out of our own end," head coach Adam Oates said of Schmidt, who the Capitals signed as a free agent out of the University of Minnesota in April. "We don't want to throw him into the lion's den tomorrow against a hot team, but he skates good and they're a very good skating team."
Washington was forced to recall Schmidt, a left-handed shot, after John Erskine suffered an upper-body injury during the Carolina Hurricanes' game-winning goal in Thursday's 3-2 loss.
"He got contorted there, he spun out and pulled something," Oates said.

There is no timetable on Erskine's return to the lineup. He joins Jack Hillen, out four to six months with a fractured tibial plateau, on the injured list.
To make room for Schmidt, the Capitals reassigned defenseman Connor Carrick and forward Michael Latta to Hershey. Carrick, who made his NHL debut in Washington's season-opening loss to Chicago last week, appeared in three games, but sat out of Thursday's loss as a healthy scratch.
How to balance Carrick's development -- as well as right wing Tom Wilson's -- with organizational expectations is something that Oates has wrangled with all season, and Oates felt as if it was best for the 19-year-old to see more significant playing time.
"The kid's played great," Oates said, reiterating that Carrick has outgrown junior hockey. "He's been sitting there a few days, want to get him some games. ... We don't want to hurt his learning curve. He's done a real good job. I expect to see him again, but I need to get him games."
Among the bottom half of Washington's projected defense for Saturday's game -- Schmidt, Steve Oleksy and Alex Urbom -- there are 45 combined games of NHL experience. Meanwhile, Dmitry Orlov has 65 on his own.
Oates said Friday that he asked general manager George McPhee about recalling Orlov first, but the 22-year-old is suffering from pinkeye, which kept him from being recalled.
---
Follow Adam on Twitter @AdamVingan and e-mail your story ideas to adamvingan (at) gmail.com.