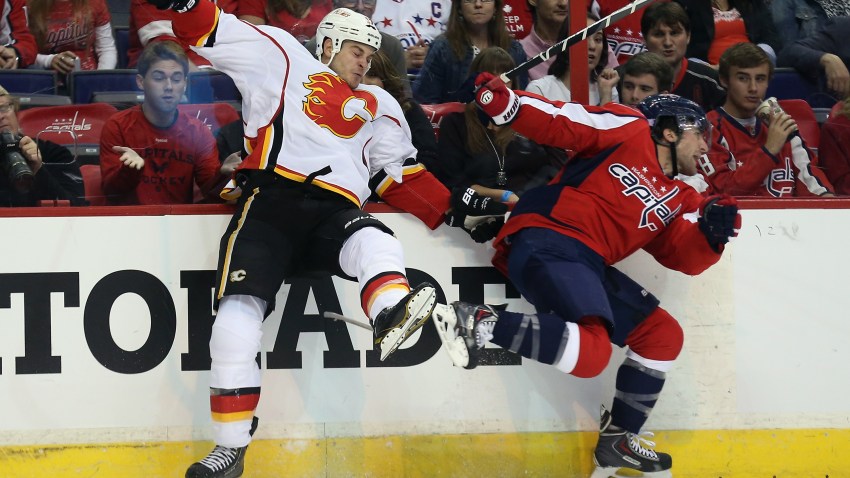 Washington Capitals defenseman Jack Hillen will undergo surgery Friday after leaving Thursday's 5-4 shootout win over the Calgary Flames with an apparent right leg injury. The injury, which the Capitals will only describe as lower-body, is not considered career-threatening, but the expectation is that the 27-year-old will miss months, according to head coach Adam Oates.
Hillen was injured during a first-period collision with Flames forward Lance Bouma. Bouma delivered a clean check that caught Hillen awkwardly. As Hillen attempted to regain his balance, he could not put weight on his right leg and fell to the ice, where he had to be helped off by Alex Ovechkin and head athletic trainer Greg Smith. Just last season, Hillen missed 25 games with a left shoulder injury suffered in Washington's season opener against the Tampa Bay Lightning.
Oates did not divulge any sort of long-term contingency plan, but as for Saturday's game against the Dallas Stars, he is still deciding on whether to play the recently-acquired Alexander Urbom, a left-handed defenseman like Hillen, or going against his preference for placing players on their strong sides by playing right-handed defenseman Steve Oleksy, who would make his season debut.
Capital Games
Capital Games is your source for all Washington-area sports.
As for the rest of the lineup, the Capitals held an optional practice Friday at Kettler Captials Iceplex. Defensemen Mike Green, John Carlson, Karl Alzner and John Erskine as well as right wing Troy Brouwer, who was feeling "stiff," electing to sit out.
Despite being pulled after allowing three goals on 11 shots Thursday, Braden Holtby will start Saturday.
---
Follow Adam on Twitter @AdamVingan and e-mail your story ideas to adamvingan (at) gmail.com.