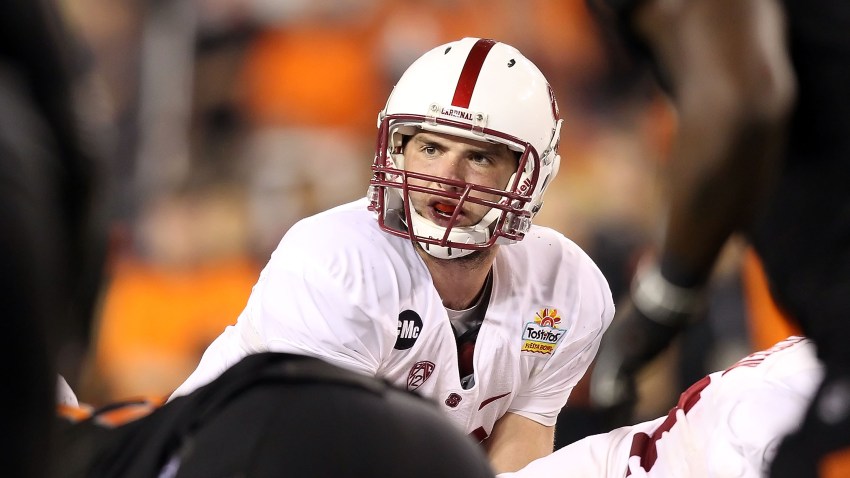 For months, it has seemed like the Indianapolis Colts selecting Stanford quarterback Andrew Luck with the first overall pick in the 2012 NFL Draft was a formality, leaving the Washington Redskins to snatch Baylor quarterback Robert Griffin III at No. 2. Based on some new developments, however perhaps the 'Skins and their fans should pump the brakes and hold the sandwiches.
Colts owner Jim Irsay told USA Today Monday that his team has not decided on which quarterback they will take April 26:
"It's up in the air,'' Irsay said at the NFL owners meetings. "We have to look at this thing completely open-minded. You have two outstanding athletes, two great pure passers, two guys from families that are incredible...If we get to the point where we're going to negotiate early, get something done before the draft, you never rule that out. We've talked to both agents. We haven't negotiated yet.''
Everything short of a shrine has been built for RGIII in D.C. as most see him as yet another possible savior under center, but would Luck be a poor fit in burgundy and gold? Yahoo! Sports' Doug Farrar does not think so:
New Colts offensive coordinator Bruce Arians was known for his multiple spread-style formations in Pittsburgh, and that's a great match for Griffin, who played an advanced three-digit, multi-read spread offense at Baylor. Given Luck's impressive ability to run and throw from play action and boot action from all angles in his Palo Alto workout, he seemed like the ideal Mike Shanahan quarterback -- in fact, I thought he looked a lot like Steve Young, who Shanahan coached from 1992 through 1994 as the San Francisco 49ers' offensive assistant.
A young, Young-like quarterback does not come around often, so missing Griffin and taking Luck would not be a horrible trade-off (then again, neither was Peyton Manning, who Redskins head coach Mike Shanahan met with after making the trade for the St. Louis Rams' second-overall pick, but more on that later). Either way, the Redskins are guaranteed to land a highly-competent quarterback next month that they can build their franchise around for years to come.
But just in case, get your "RG3" sandwiches at your local Subway for a limited time.
---
Adam Vingan is co-founder and editor of Kings Of Leonsis, a Caps-centric blog, and is the Capitals Editor for SB Nation. Follow him on Twitter @Adam_KOL and e-mail your story ideas to adamvingan (at) gmail.com.