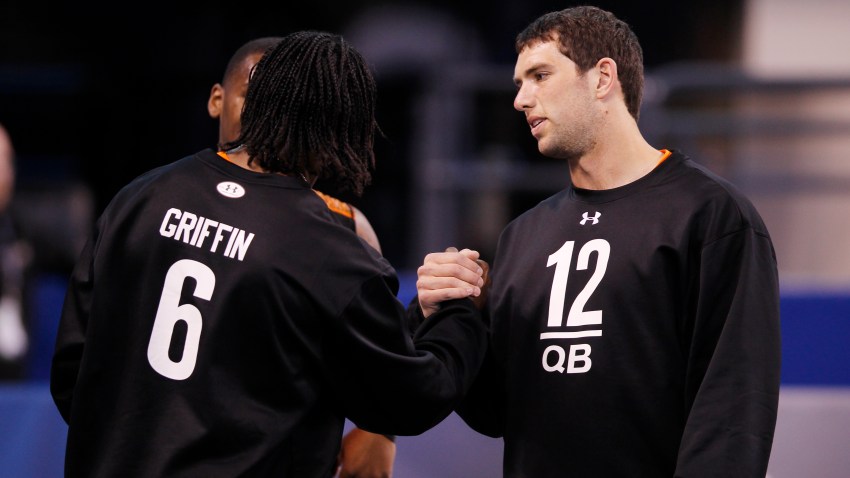 The Washington Redskins have been infatuated with Baylor quarterback Robert Griffin III for some time, even parting with three draft picks (including two first-round picks) just to swap their sixth overall pick in April's NFL Draft with the St. Louis Rams' second overall pick and have a chance to draft Griffin (even then, that is not a given, considering the Indianapolis Colts hold the No. 1 pick).
Wednesday, the Redskins brass had one more opportunity to take a look at Griffin during Baylor's Pro Day and based on the reaction eminating from Waco, Tx., things are looking bright for the 'Skins (though that still might not be as bright as Griffin's socks).
Team owner Dan Snyder, head coach Mike Shanahan and his son/offensive coordinator Kyle Shanahan were part of the Redskins contingent that watched Griffin unofficially complete 74 of 78 passes, according to The Washington Post's Mike Jones:
Griffin displayed no problems as he took snaps both under center and in the shotgun. He also demonstrated good footwork, moved around in the backfield with ease, and looked sharp on roll-out throws, which are often used in Washington's offense.

Griffin showed good touch on short passes, and a big arm on deep throws, just as he did during his Heisman Trophy-winning season at Baylor.
Griffin had positive things to say about the Redskins, who took him out for dinner Tuesday (the fact that that dinner might have taken place at Hooters makes Griffin's happiness come as no surprise).
"The owner's great," Griffin said of Snyder. "Mike Shanahan is as good as advertised, and his son is stepping up and doing a lot in D.C., for that team. If it happens to be me, they've definitely shown me that I can get along with them, keep it light, but when it's time to get serious, get serious."
Griffin also weighed the option of joining the Colts as a replacement for Peyton Manning.
"It's up to [the Colts]," he said to USA Today. "It's whatever they decide. They're going to go to [Stanford quarterback Andrew Luck's] pro day … and it's up to them to make that decision. I'm not going to close the book on it. It's kind of down to two teams … and if it's not those two teams, it is somebody else, and I'll be happy to play for that team as well."
For what it is worth, the Redskins will also attend Luck's Pro Day Thursday at Stanford. It is not out of the realm of possibility that Luck will drop to second and be selected by the Redskins. Yet, the Colts have been linked to Luck, who was considered the consensus No. 1 pick throughout last season (Suck For Luck, anyone?), since before the season ended (Indianapolis started 0-13 before finishing 2-14), so it is likely that Luck will go there and Griffin will land in D.C.
Griffin looks like the kind of quarterback that can rejuvenate the Redskins on and off the field and they have definitely welcomed him with open arms.
The same, however, cannot be said about Tim Tebow, who will leave the Denver Broncos and join the New York Jets after both sides reached a deal Wednesday. The Redskins made their position abundantly clear on their official Twitter account:
Can't imagine a more awkward fit than Tim Tebow going to the New York Jets...Just 2 cents. — Redskins (@Redskins) March 21, 2012
Considering the money that the 'Skins have spent in recent seasons and the diminished salary cap they have to deal with for the next two seasons, I am surprised they even have two cents to spare.
---
Adam Vingan is co-founder and editor of Kings Of Leonsis, a Caps-centric blog, and is the Capitals Editor for SB Nation. Follow him on Twitter @Adam_KOL and e-mail your story ideas to adamvingan (at) gmail.com.