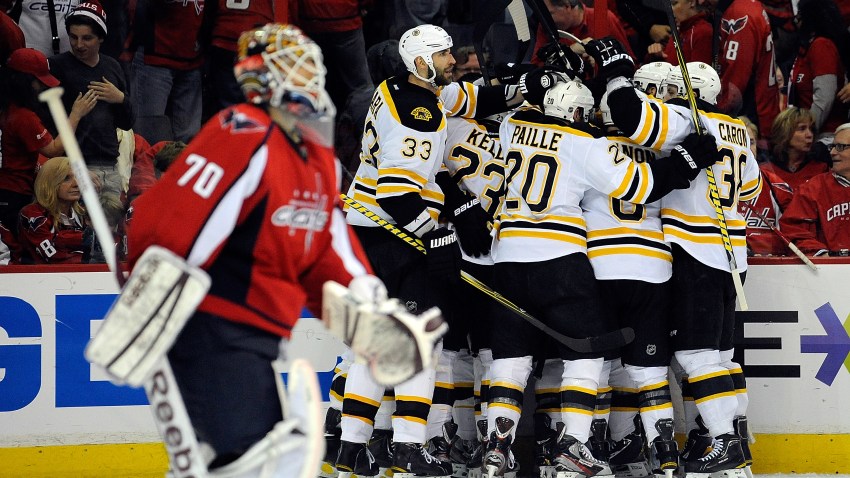 There may not be another team in the NHL that is more Jekyll and Hyde than the Washington Capitals. If you need proof, just look at this weekend.
Saturday, the Caps entered Game 5 in Boston with their Eastern Conference Quarterfinal series tied 2-2. Despite blowing a 2-0 lead in the second period after allowing two goals in 28 seconds, Washington responded twice, taking a 3-2 lead early in the third and winning the game on a Troy Brouwer power-play goal with 90 seconds remaining in a 4-3 victory.
Sunday, Washington returned to Verizon Center with an opportunity to eliminate the Stanley Cup champions and it finally seemed like they would win a big game at home. Alex Ovechkin's game-tying goal late in the third period gave the Caps and their fans much-needed confidence, but it was premature as Tyler Seguin scored the game-winning goal in a 4-3 overtime win that will send the series back to Boston for Game 7 Wednesday. The Caps dropped to 2-5 since 2008 in home playoff games where they are able to clinch a playoff series.
See, Dr. Jekyll and Mr. Hyde. Saturday, good. Sunday, pure evil. Talk about split personalities.
Speaking of stories, Wednesday will be one we've seen before. For the fifth time in seven playoff series, this current crop of Caps will face a seventh game; they are 1-3 in those deciding games. Yet, all four have been at home. Perhaps a game of scenery will do some good.
"We are very familiar with this, so hopefully the experience will come into play," a frustrated Mike Green said Sunday.
The question is: which Caps team will show up Wednesday? Will it be Saturday's team, gutsy and resilient? Or Sunday's, painfully disappointing?
A strange case indeed.
---
Adam Vingan is co-founder and editor of Kings Of Leonsis, a Caps-centric blog, and is the Capitals Editor for SB Nation. Follow him on Twitter @Adam_KOL and e-mail your story ideas to adamvingan (at) gmail.com.