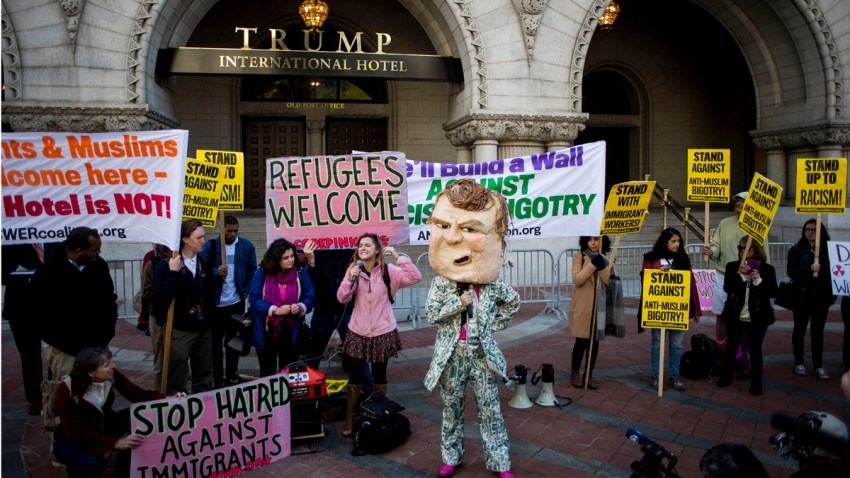 Harry Jaffe, a longtime chronicler of the people and politics of Washington, D.C., writes a column for NBC Washington's First Read DMV blog.
Guess who will not be elected to anything tomorrow with votes cast in the District of Columbia? Anyone from the Republican Party. Here in the nation's capital we live under a one-party system.
Donald Trump has no chance in D.C., of course. Of the 19 D.C. delegates to the Republican National Convention, not one voted for Trump.
First Read — DMV
A place for insight, analysis and exclusives on the people who shape politics in the District, Maryland and Virginia.
But at least the Republican presidential candidate will be on the ballot. Thanks to the 23rd Amendment to the Constitution, we otherwise disenfranchised, taxpaying residents of the District can vote for president and have standing in the Electoral College.
But in local elections for mayor, Congress and council, the GOP does not count. On Election Day tomorrow voters can cast ballots for our one delegate to Congress, two at-large council members, four ward candidates. The D.C. GOP failed to field candidates in all but one race.
Carolina Celnik will be on the at-large ballot, but she has less of a chance to win as Hillary Clinton in Wyoming.
"It's a difficult time to run as a Republican in the District," said Patrick Mara, executive director on the local GOP. "Things will get easier."
"Difficult" is one term; "mathematically impossible" is another.
The Board of Election counts 29,862 registered Republicans compared to 363,642 Democrats, for more than a 10-1 advantage.
"We are still in the wilderness years," said Mara, who's run for council and briefly held a seat on the Board of Education.
The local GOP has been in the wilderness thanks to its own insularity. For years it lay in the lair of the white, wealthy set in Georgetown. In a city that's been predominantly African American for decades, that was not a prescription for success.
The Home Rule Charter says one of the four at-large members must not be a member of the dominant party. For decades the estimable Republican Carol Schwartz held that seat. Since she got knocked off in 2008, Democrats have changed their affiliation to Independent to satisfy the Home Rule Act.
The D.C. GOP has been vestigial and clubby at best. Now it's close to inoperative, thanks to mismanagement and fraud.
Mara says former executive director Ron Phillips left the local party tens of thousands of dollars in debt. Earlier this year former executive director Robert Turner pleaded guilty to embezzling $7,631 from the party's coffers.
"Makes it hard for us to talk about corruption," Mara said.
So we are left to live in a Soviet-style political system, where one party controls every local elected office. The lack of a conservative voice – social or fiscal – might become more glaring with the current, progressive council.
The one-party dominance doesn't bother some on the academic side.
"It's true," writes George Washington University's Chris Klemek, "though the situation is hardly unique in American cities – nor for that matter, in electoral districts generally."
True, but even in political districts gerrymandered to favor one party, the other party at least functions and fields candidates. Not in D.C.
"It's no more or less fair than Utah," says Jamie Raskin, American University Law School professor who's a Democrat running for Congress in largely Democratic Montgomery County. "Utah sends only Republicans to Congress."
Yes, but there is a viable Utah Democratic Party that fields candidates in every major election.
As a lifelong Democrat, I miss the bump and grind that might come from a robust local Republican Party. Democracy thrives on the clash of ideas and policies. D.C would be better off with a viable GOP.
I would even welcome a few Trump supporters. It would make the nation's capital city more like the rest of the country.