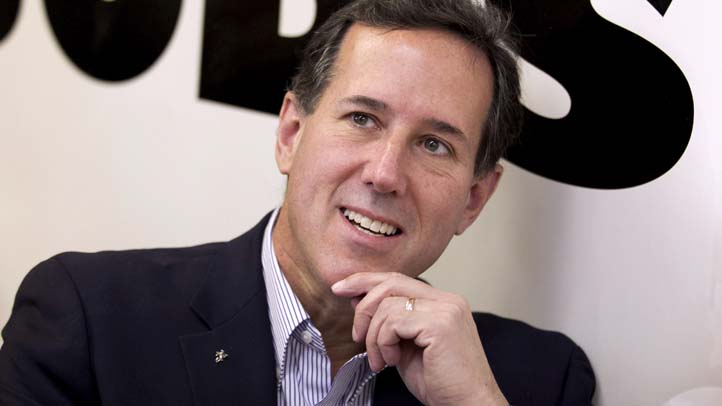 Former Republican presidential candidate Rick Santorum will endorse Ken Cuccinelli for Virginia governor today.
The Washington Post obtained a copy of the endorsement: "As Virginia's Attorney General, Ken has been a steadfast fighter to overturn ObamaCare and return healthcare decisions back to patients and doctors. Ken is committed to working to reform state government to improve quality and access in health care through greater competition and modernizing health care information technology."
The endorsement isn't much of a surprise; Cucinelli is the only serious contender for the nomination and both Cuccinelli and Santorum are Tea Party favorites, famous for their far-right social views.
First Read — DMV
A place for insight, analysis and exclusives on the people who shape politics in the District, Maryland and Virginia.
But this high-profile endorsement early on highlights the national interest in the election. This is one of just two gubernatorial elections in 2013 (the other is in New Jersey)
Cuccinelli will likely face Democrat Terry McAuliffe in the general election. The Virgnia Attorney General was supposed to battle it out with Lt. Gov. Bill Bolling for the GOP nomination, but Bolling recently dropped out because he thought he couldn't compete with Cuccinelli in the statewide nominating convention in May—a process that heavily favorites conservatives over moderates.
The National Journal reported Thursday that Bolling is still keeping the possibility of an independent gubernatorial run open.
IN OTHER NEWS:
* Kwame Brown's twitter feed gets offensive, Brown goes on defense
* Feds complete investigation into Kwame Brown, but urge Board of Elections to continue its own investigation
* And Kwame Brown's brother pleads guilty to bank fraud
* Virginia ranks second best state for business, Maryland comes in 16th
* NAACP optimistic about death penalty repeal
* McDonnel proposes 2 percent pay raise for teachers, but rookie teachers would have to stay on probation for five years instead of three
* Jim Graham spends $1,500 in city money to attend Liz Taylor memorial
* Kenyan McDuffie urges Gray to drop Ivy City bus plan
* Columbia Heights bar, The Getaway, distances itself from the arrest Virginia Rep. Jim Moran's son
* Bolling to announce his opposition to uranium ban
* Cuccinelli critical of Catholic approach to poor

* Maryland legislators propose change in pension funding

* O'Malley blames Susan Rice exit on "small cabal" of Republican senators