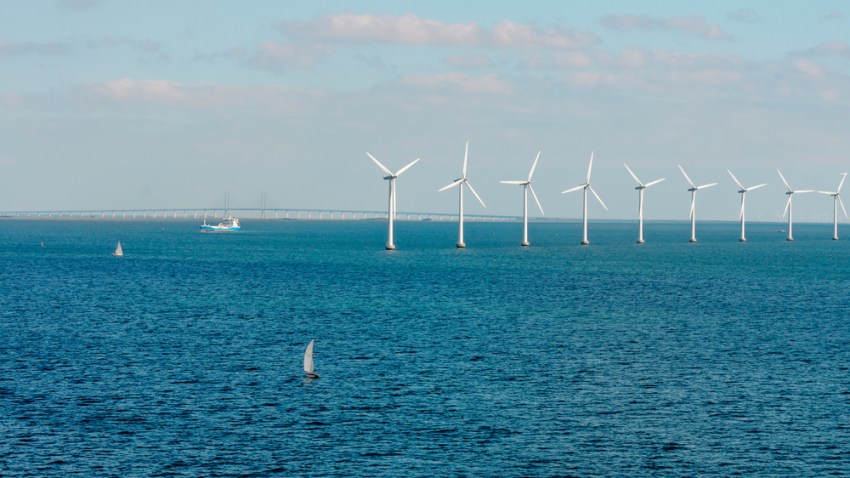 Monday was a good day for Gov. Martin O'Malley.
After more than three failed attempts, the governor's proposal to encourage the development of a wind energy industry in the state finally passed the General Assembly.
The legislation calls for dozens of gigantic wind turbines along Maryland's Atlantic coast and would require residents to pay up to an extra $1.50 a month on their electricity bills if the turbines are built.
First Read — DMV
A place for insight, analysis and exclusives on the people who shape politics in the District, Maryland and Virginia.
This rate hike would go to fund a subsidy of up to $1.7 billion over 20 years to a company that can successfully develop this offshore wind energy.
The bill would also require electricity suppliers in Maryland to get up to 2.5 percent of their power from offshore wind as early as 2017.
Despite opposition to the costs, the Baltimore Sun reports that bill passed easily in the House Monday with a 88-48 vote and relatively minor changes to the Senate bill. The legislation now heads to O'Malley's desk for his signature.
Read more here.
IN OTHER NEWS:
* Prince George's County is scheduled to vote Tuesday on a proposal to offer retirement incentives to county workers by paying them $1,000 for each year they worked in the county if they retire between May and July. (Washington Examiner)
* D.C. Councilmember Muriel Bowser is expected to announce Saturday that she will run for mayor in 2014, making her the first to officially enter the race. (Washington Post)
* The ACLU called on Gov. McDonnell to sign legislation that would limit the use of drones in Virginia for two years. (Virginian Pilot)
* Virginia Del. Scott A. Surovell (D-Fairfax) and Sen. Adam P. Ebbin (D-Alexandria) delivered 6,845 signatures to the office of Gov. Bob McDonnell, urging him to amend the General Assembly's transportation funding overhaul to eliminate the $100 fee on alternative-fuel vehicles. (Washington Post)
* Gov. O'Malley: Capital punishment is not a deterrent, it is not fool-proof, it is administered with great racial disparity, it costs three times as much as life without parole, and there is no way to reverse a mistake when an innocent person is wrongly convicted. (Politico)
* The Maryland House Judiciary Committee is scheduled to hold a hearing on a measure to legalize limited amounts of marijuana for adults 21 and older. (Associated Press)
* The District collected $21.2 million last month in traffic-camera fines, a 23 percent increase from the same period last year. (Washington Business Journal)
* A marathon hearing (seven hours!) by the Office of Planning zeroed in the D.C. zoning update. (Greater Greater Washington)
* Attorney General Ken Cuccinelli will be the featured speaker at Virginia's political rite of spring, the Shad Planking, on April 17. (Richmond Times-Dispatch)