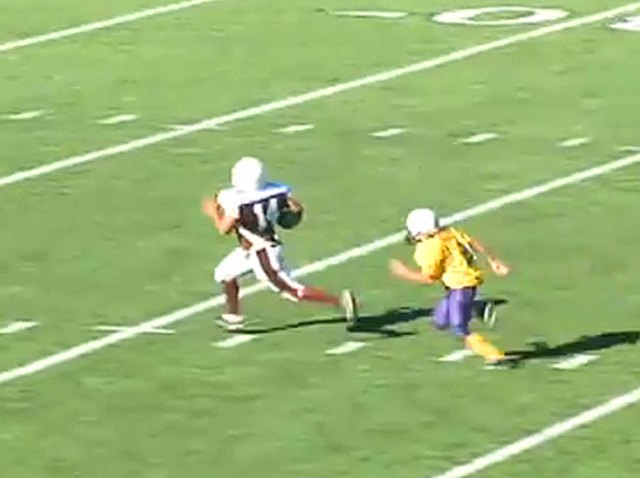 The football players at Driscoll Middle School in Corpus Christi, Texas, are getting national attention after losing their city's championship.
It is not the game, but one single play that has become a huge hit online. Driscoll trailed by a touchdown in the second half and resorted to the "penalty play".
U.S. & World
The day's top national and international news.
Quarterback Jason Garza drew the defense off sides using a long snap count. Referees walked off the five yards for the penalty, that's when the trick kicked into high gear.
Assistant coach John De Los Santos began yelling from the sidelines that it should have been a ten yard penalty. He told his quarterback to mark off another five yards.
QB Jason got behind the center who then casually, but legally snapped the ball by handing it to his quarterback over his shoulder.
"That's when I acted like I was marking off the penalty, I was counting my steps out loud like it was the yardage," Jason told the Corpus Christi Caller Times. "My linemen played it up asking me what I was doing, too. When I got to the middle linebacker, he asked what I was doing. I told him I was marking off the penalty yardage. He said, 'Isn't the ref supposed to do that?' I told him I was doing it and kept on walking. When I got to the fourth step, I heard a Wynn Seale coach yelling 'Tackle him!' so that's when I took off running."
Jason Garza scored, tying the game with the touchdown, but it was not enough to win. Driscoll's opponent Wynn Seale won the game that ended in a 6-6 tie because of a tiebreaker.
Assistant coach De Los Santos told the Times, "I knew the play because I ran it in seventh grade, and coincidentally it was against Wynn Seale then, also," De Los Santos said. "But when I tried it, the safety hit me nine yards down field and knocked the wind out of me. That's why I told the guys that this was either going to be a real big play or Jason was going to get hit hard. Thank goodness it worked out a lot better this time."