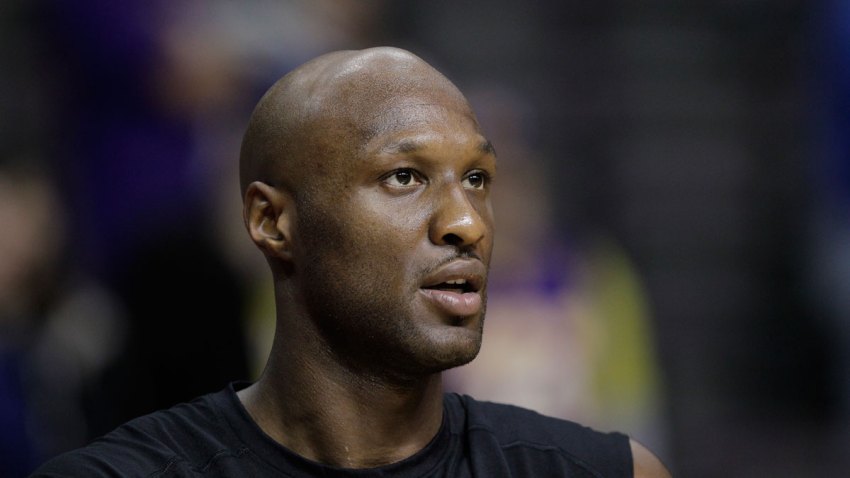 The manager of a Nevada brothel where Lamar Odom was found unconscious earlier this week said the ex-NBA star talked to her about the deaths of his mother and two close friends, NBC News reported.
Love Ranch bordello manager T J Moore, who picked up Odom in her car ahead of a multiple-day, $75,000 party with two women, said Odom was polite and easy to chat with and seemed "tired."
Odom, 35, was found unconscious at the brothel Tuesday with white and reddish substances coming from his nose and mouth. His breathing was consistent, but he seemed to be in a deep, sleep-like state, said Richard Hunter, a Love Ranch spokesman and one of the people who called 911.
U.S. & World
The day's top national and international news.
Officials tried to fly him by helicopter about 80 miles to Las Vegas, but he had to be taken by ambulance because he was too tall to fit in the aircraft.
Odom's estranged wife, Khloe Kardashian, rushed to his side at Sunrise Hospital and Medical Center. Since then, friends, teammates and loved ones have visited and posted requests for prayers on social media.
The athlete suffered brain damage and at least one stroke and is on a ventilator, sources close to the athlete told E! News.
Love Ranch owner Dennis Hof said the package Odom purchased, called the "girlfriend experience," included sex and activities like cooking, watching TV together and going out to dinner. Hunter said Odom scheduled his brothel visit a week in advance and asked for a ride to the business Saturday, arriving at 4:30 p.m. He paid by credit card after putting down an initial 10 percent deposit for the reservation, Odom's first-ever visit to the Love Ranch.
"We talked about my family, my grandsons. He just really enjoyed the ride," Moore told NBC News. "He did tell me about his mother, losing her at a very early age, being raised by his grandmother, and he told me about a mentor back in his school years, that got him involved in basketball and … on the positive track."
Odom also talked about the recent deaths of his two close friends, Moore told NBC News. "He did talk about losing two best friends recently that did affect him … his mother's death did affect him, he did speak about that again on Sunday," she said.
Moore declined to explain exactly what was worth $75,000 in the package Odom purchased, saying, "clients negotiate behind closed doors, ladies don't kiss and tell."
Hunter said Odom knew the brothel has a strict anti-drugs policy, and the only drugs anyone there saw him take were herbal sexual performance enhancement capsules. Hunter couldn't rule out the possibility that Odom used other substances.
"The only way that's possible is if no one knew it and he had it completely to himself," Hunter said. Hof also said earlier that Odom drank alcohol from the brothel bar.
Odom bought the supplements Reload and Libimax Plus — marketed as sexual stimulants or "herbal Viagra" — at the brothel. Libimax sells for $14.99 per pill. In 2013, the Food and Drug Administration issued a warning against Reload after it was found to contain sildenafil, the active ingredient in prescription Viagra. The hidden additive could cause dangerously low blood pressure in men taking nitrates for high blood pressure or cholesterol.
Khloe Kardashian's representatives reached out Wednesday to Hof and asked him not to speak to the press. But Hof said he's troubled by the lack of communication from the reality TV star, and he dismissed her rep's request that Khloe Kardashian do interviews instead of him. She has so far issued no public statements.
"I know what happened," Hof said. "I'm the one protecting my business and telling the truth about it."
Kardashian's rep said they politely asked Hof to respect their privacy.
Copyright AP - Associated Press