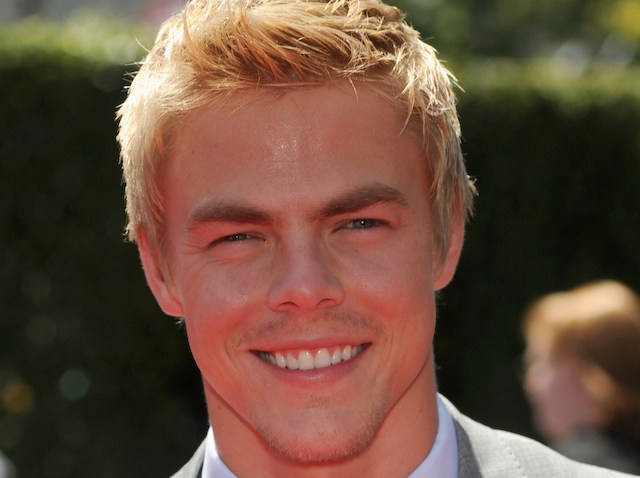 "Dancing With the Stars" pro Derek Hough may be sitting out this season, but he's still hoofing it – this time with a script.
The choreographer and three-time Mirror Ball trophy winner's adding the hyphenate to his business card after taking a break from the latest season of the hit dance competition – He's about to film the dimensional dance flick "Cobu 3D," and he returned to the small screen last night for a brief role on the ABC sitcom "Better With You."
"It was a fun little story," Hough tells PopcornBiz, referring to his sitcom debut as a dance instructor for the engaged Mia [Joanna Garcia] and Casey [Jake Lacy]. "It was about their first wedding dance – Casey was pretending that he was terrible, but I could see right through him. I go, 'Nobody dances that badly or that good, all right?' He turns out to be an excellent dancer. It was pretty funny. I'm basically on his side, saying, 'What you do is right. Don't tell her that you're a good dancer, because I know what's that like: girls don't like it when their guys are better dancers than they are.' I know that for a fact!"
U.S. & World
The day's top national and international news.
Hough, who acted and danced on the London stage in his pre-"DWTS" days, says he enjoyed the theatrical feel of the soundstage. "It was a lot of fun to be reintroduced to acting again because I hadn't done it for a couple of years since I was doing 'Dancing With The Stars' and it definitely felt like being on stage, rather than being on TV," he says. "That sitcom feel is very sort of theatrical and slightly over the top, so it was a lot of fun to do that again."
As for his big-screen effort, we caught Hough hard at work – literally – on "Cobu 3D." "Seriously, I'm actually streaming sweat down my chin because I'm just in the middle of rehearsing right now," he says. "It's pretty full-on. The tone of it is pretty edgy and little more real, as far as story goes. Obviously there's some dancing involved. What we're trying to do is not make this more of a spectacle, more of a story-with-good-dancing. As far as the choreography, what we're trying not to do is make it be a novelty – having things come at you, like, 'Whoa!' We want to make it more like drawing the audience in. So it's more about layers, shooting through the crowd and things like that, to make it seem more textured rather than the novelty of having things flying at you."
Hough says he's also interested in acting gigs that don't require such fancy footwork. "Absolutely – I'd love to be in something where I was very sort of straight acting and not just kind of a spin off of what I do or what people know me for," he admits. "It'd be nice to do something different."