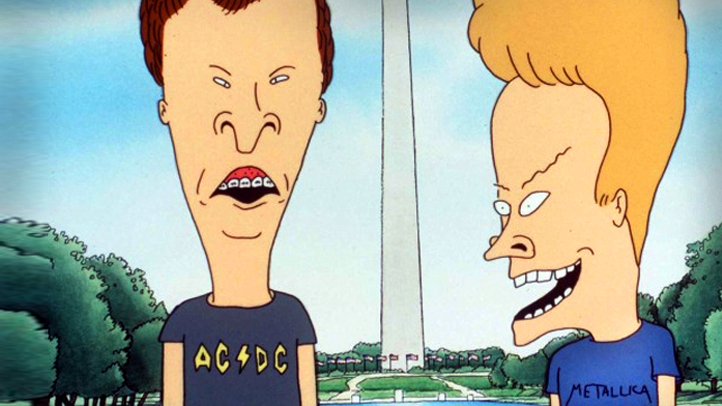 Beavis and Butt-head return Thursday after a 14-year absence to a very different pop cultural landscape – albeit one they unwittingly helped misshape in their own twisted images.

MTV's dumb-and-dumber duo should feel right at home in our current instant-commentary culture, where the kind of sniggering snark they spouted in the 1990s is always a tweet away.

Not that we're complaining: In the Reality TV age, we need tube-mockers Beavis and Butt-head more than ever.

Mike Judge's cartoon creations, in some respects, are the original meta men of media: they were often – unintentionally comically – cited as a sign of the downfall of the very pop culture they satirized.

Much of the unique, if crude charm of "Beavis and Butt-head" rested in its recreation of the merrily mindless experience of sitting around with pals, making your own fun by goofing on whatever junk popped up on TV. Now we have apps for that: Folks watching the same show or web video far apart can offer running commentary via various social media. It's part of a larger conversation on subjects, weighty and otherwise, that plays out on the Internet, which had yet to reach ubiquity when the dimwitted duo left the tube in 1997.

Props are due to the clever "Mystery Science Theater 3000," which pre-dated Beavis and Butt-head by a half-dozen years and whose robot and human cast ripping into old B-movies attracted a devoted cult audience. Beavis and Butt-head, though, became international pop icons themselves largely by lampooning videos MTV played when the network was still the center of a mass youth culture primarily built around music.

It's a commentary on these times – and MTV – that Beavis and Butt-head's new primary target is Reality TV junk like "Jersey Shore." Instead of skewering big-haired metal rockers or tormenting their smart classmate Daria (whose return we'd love to see), the Texas teens are taking aim at Snooki and her ilk.

Judge's welcome decision to revive the show might just hit the ratings sweet spot between those just old enough to seek what passes for nostalgia, and others too young to remember Beavis and Butt-head, but who were raised to get the joke. There are promising signs that the reboot won't – to use one of animated pair's favorite vulgarisms – suck. Check out the (borderline NSFW) preview below for dose of reality, Beavis and Butt-head style:

Hester is founding director of the award-winning, multi-media NYCity News Service at the City University of New York Graduate School of Journalism. He is the former City Editor of the New York Daily News, where he started as a reporter in 1992. Follow him on Twitter.
Copyright FREEL - NBC Local Media