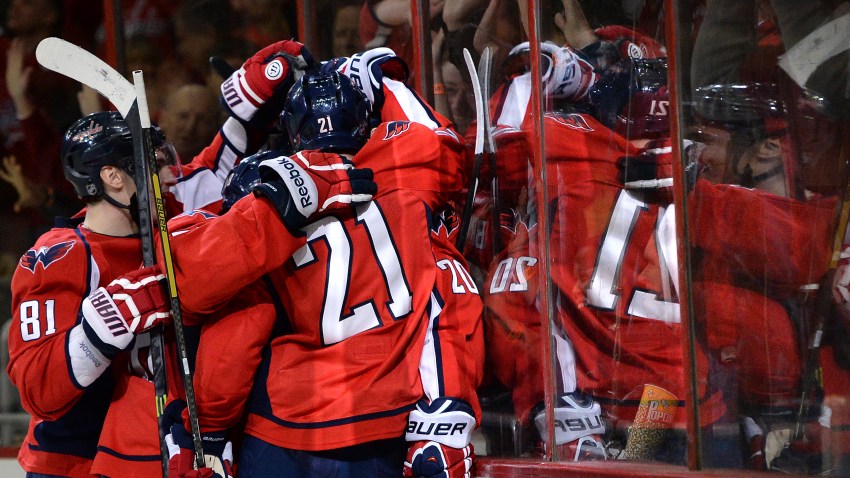 When the Washington Capitals resume their season next Thursday against the Florida Panthers, they will have 23 games to secure a postseason berth.
Washington currently sits in 11th place in the Eastern Conference, one point behind the Detroit Red Wings, who occupy the second wild-card spot. Having earned 63 points through 59 games, the Capitals are aware that it will take a spirited push to solidify their seventh straight Stanley Cup Playoff appearance.
"Usually 92 potentially can get you in, 94 usually will get you in and anything over that, you're probably in," forward Brooks Laich said. "Anything less than 92, you need a major stroke of luck to get in. I think that's the absolute cutoff point, and as you get a point or two or three above that, your chances get exponentially better, I believe."
Using Laich's logic, the Capitals would have to earn at least 29 points in their final 23 games to reach 92, a points percentage of roughly 63 percent which translates to a record of around 13-7-3.
That is a tall task for a team whose points percentage so far this season is significantly lower at 53.4 percent, not to mention the fact that Washington faces one of the NHL's toughest schedules down the stretch.
In recent years, the Capitals have held late-seasons meetings where they have addressed exactly how many wins they must earn in order to qualify for the playoffs. Thursday, Laich recalled one in 2012 when Washington, struggling under coach Dale Hunter, set a benchmark of at least 17 wins in 26 games.
The Capitals fell short of that objective, winning 14 games and earning points in 17, but it was good enough to clinch a playoff berth in the penultimate game of the season.
"It really puts it in perspective, like 'Holy, we can only lose that many games. We have to win this many games,'" Laich said. "As long as you can know that, and then just keep track a little bit and keep reminding guys and put together winning streaks that way."
Washington will look to recent history as motivation. Last season, the Capitals were one of the league's best teams over the final month, winning 15 of 20 to clinch the Southeast Division, and over the past six seasons, they have won at least 13 of their final 20 games four times.
This year's team can only hope to replicate that success.
"We're really aware of the second half, certainly around here," Laich said. "I think our best-played hockey is played in that stretch of games."
---
Follow Adam on Twitter @AdamVingan and e-mail your story ideas to adamvingan (at) gmail.com.