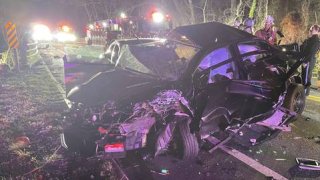 Authorities have confirmed the identity of the person who died in a three-car crash early Sunday morning along the Clara Barton Parkway in Bethesda, Maryland.
Joel Rodríguez was killed in the collision, U.S. Park Police told News4.
Rodríguez was a "very bright young man, always positive, who impacted all those he came in contact with," a GoFundMe page opened on behalf of his family said. His "warm smile and generous heart will always be remembered."
Rodríguez died at the scene of the crash that occurred around 4:20 a.m. along the roadway near the D.C. border, Montgomery County fire officials said.
Another person was seriously injured and taken to a local hospital. A third person was evaluated at the crash site.
U.S. Park Police are investigating the collision.
Officials have not given additional details about what happened.